(CNN) -- Lavish weddings on soap operas are commonplace -- beautiful, wealthy characters united amid copious tears, heaps of flowers and exquisite attire.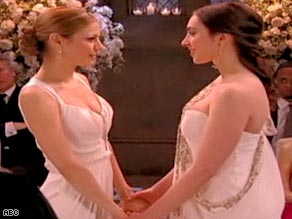 Actresses Tamara Braun and Eden Riegel take part in the wedding as depicted on ABC's "All My Children."
Monday's ceremony on ABC's "All My Children" was much the same, except for the couple: Bianca Montgomery and Reese Williams, both wearing designer dresses, united in daytime television's first lesbian wedding.
"When my character did first come out of the closet, there was a lot of negative reaction," said Eden Riegel, the actress who plays Bianca. Her character is the daughter of Erica Kane, a longtime mainstay on the show played by Susan Lucci.
"People were very protective of Erica Kane's daughter, and I think that the beauty of the show is that we were able to reach people and get people sort of used to the idea," Riegel said.

Watch the actress talk about her character and the wedding »
The ceremony, portions of which were posted on a Web site dedicated to ABC daytime television and SOAPnet.com, featured both women wearing designer dresses and holding red roses.
"I promise to love you and devote myself to you," says a tearful Reese, played by Tamara Braun, during the ceremony, her hands in Bianca's. "Because standing here with you, it's where I belong."
Lucci said, "Once Bianca came out and said she was gay, Erica said, 'But no! You won't get married!' Well, now that Bianca is getting married, you know, the other part of Erica is like, 'Hooray!' You know? 'I get to plan my daughter's wedding after all!' "
At least one religious group, however, expressed its disapproval of the nuptials.
"I think it is really important to understand that there are a lot of things that people don't really want to see and don't want coming into their homes, and lesbian weddings are certainly one of them," said Glenn Stanton of the group Focus on the Family.
But gay and lesbian groups hailed the televised wedding as a victory.
"It's reality," said Neil Giuliano, president of the Gay and Lesbian Alliance Against Defamation (GLAAD). "So when we see a lesbian couple getting married on daytime drama, it simply reflects what's happening in the real world."
Actress Braun said, "If you are brave enough to want to get married, especially with the divorce rate as high as it is, then you should have that right no matter what sex you are, who you love, what color you are, how many extra toes and feet you have ... equal rights for all people."
Recent high-profile same-sex weddings included that of talk show host Ellen DeGeneres and her partner, actress Portia de Rossi, last August. However, same-sex marriage remains a hot-button issue in many states -- particularly California.
The state was one of several to ban same-sex marriage in the November 4 elections. But unlike the others, California had been issuing marriage licenses to same-sex couples since a May 15 ruling by the state Supreme Court legalized the unions.
However, California's Proposition 8, the measure outlawing same-sex marriage, passed with about 52.5 percent of the vote.
Three groups -- the American Civil Liberties Union, gay-rights group Lambda Legal and the National Center for Lesbian Rights -- filed a legal challenge to the vote, asking the state Supreme Court to rule the ballot-initiative process was "improperly used" to strip away a right protected by the state constitution.

The court has said it will hear the appeal, but will not block the implementation or enforcement of the law in the meantime. Arguments in the case could be heard as early as next month.
Same-sex marriage is legal in Massachusetts and Connecticut. Rhode Island recognizes same-sex marriages from other states, and Vermont, New Jersey and New Hampshire allow civil unions.
E-mail to a friend

CNN's Lola Ogunnaike contributed to this report.
All About Gay and Lesbian Relationships • Television