(CNN) -- Emmy-winning Patrick McGoohan, the actor who created one of British television's most surreal thrillers, has died aged 80, according to British media reports.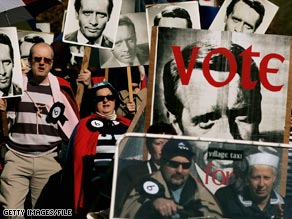 Fans holding placards of Patrick McGoohan recreate a scene from 'The Prisoner' to celebrate the 40th anniversary of the show in 2007.
The Press Association, quoting his son-in-law Cleve Landsberg, reported he died in Los Angeles after a short illness.
McGoohan, star of the 1960s show 'The Danger Man,' is best remembered for writing and starring in 'The Prisoner' about a former spy locked away in an isolated village who tries to escape each episode.
The Internet Movie Data Base Web site says the "mysterious final episode caused such an uproar that McGoohan was to desert England for more than 20 years."
In a long career in TV and movies, he was King Edward Longshanks in 'Braveheart,' and he won two Emmys for work on the 'Columbo' series starring Peter Falk.
He also did a voiceover on 'The Simpsons' cartoon of his character in 'The Prisoner.'
He was born in Astoria, New York to Irish emigrants but the family returned to Ireland shortly afterwards. McGoohan was raised in Ireland and England.
E-mail to a friend

All About Obituaries • Celebrity News