By Jessica Ravitz
CNN





(CNN) -- Bret Michaels, the hard-rocking Poison front man who for decades has left a trail of clamoring women in his wake, has taken his search for love on the road.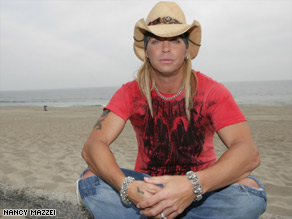 Bret Michaels' VH1 reality show "Rock of Love" is back for its third season.
VH1's hit reality dating series starring Michaels, "Rock of Love," has entered its third season, this time with a moving twist: "Rock of Love Bus." It airs 9 p.m. ET on Sunday nights and reruns through the week.
While the blue-eyed heartthrob tours the nation in his pimped-out ride, Michaels is followed by two other buses loaded with 20 scantily clad women competing for his heart and a place by his side.
What about this show has made it such a hit? Michaels called the first season's success an "accident."
"Let me cut to the chase," he said. "I have not watched a whole lot of dating reality shows. ... I didn't know what I was doing. ... I threw a big party, and having some adult beverages involved didn't hurt."

Watch Michaels talk about seasons past »
CNN talked to the thoughtful and well-spoken Michaels about the new season, what he looks for in a woman and overseeing the Truck Stop Olympics. He answered some questions with tongue firmly in cheek.
CNN: When do you meet the women on the show?
Bret Michaels: When you meet them on TV is when I meet them. When you go and race motorcycles to go on a date, you can't fake that. My whole life has been a series of untraditional dating.
CNN: What's the difference between your old style of dating and now?
Michaels: The difference? In the past, if things didn't work with someone, [I'd skip town]. Now, [people can watch] me squirm and face it.
CNN: "Rock of Love" takes on a new twist this season, going mobile. Why was this idea appealing or important to you?
Michaels: In a weird way, it made sense. No one's been brave enough or stupid enough to do this. ... I've been on the road since 19 or 20. The McMansion formula, [where] everything except the house is mine, didn't work out. ... Why go back? Let's go on the road and roll with it.
CNN: Road trips, after all, can teach you a lot about people.
Michaels: It can bring out the best or worst in somebody. ... It showed who could hang and who would be a disaster on the road. ... Some self-eliminate -- suitcase in, suitcase out.
CNN: You haven't found true love in these previous seasons, and viewers don't yet know if you will this time around. What exactly are you looking for in a woman?
Michaels: Burning hot sexual desire, that's the first thing. ... No one says, "Hey, I'm really unattracted to someone, let me spend the night getting to know them." ...
Humor is really important. ... Street smarts, intelligence and confidence ... self-deprecation. ... And eyes and breasts don't hurt. You can see a lot of someone in their eyes, and if that doesn't work, straight to the breasts.
CNN: Where do you find these women?
Michaels: [The show's producers] go into each city and find someone crazy enough to go on the show. ... It's entertaining for me, too.
CNN: Do you have an regrets from previous seasons or perhaps a most embarrassing moment you'd like to recall for all to read?
Michaels: When they had the penis blood-flow meter to measure excitement.
CNN: What has this experience taught you about women? About yourself?
Michaels: It's taught me about women this: They are extremely competitive. They've got a game on and game plan. ... They're intelligent, they're witty, they know what's going on. For me, I've learned that dating in the traditional sense is hard.
CNN: Can you give us a small taste of some of the surprises viewers can anticipate this season?
Michaels: One of the greatest challenges: Truck Stop Olympics, featuring a foot-long hot dog relay race, complete with condiments, hurdling beer-belly truckers with beer cans on their bellies. ... [The contestants] go through a Slip 'n Slide and do a dive off a diving board into an entire pool of Bret's Brew [beer]. ... If Truck Stop Olympics don't find me a wife, I don't know what will. (laughs)
CNN: I see you have two daughters [now ages 8 and 3]. If they said, "Daddy, we want to go fight it out for a rock star's heart," what would you say?
Michaels: As long as they're about 38 or older, they're fine to do that. ... The answer would come before or after I pass out.

CNN: What's next for you?
Michaels: I've been pushing [for nine years] to go out with Def Leppard. Poison/Def Leppard: on the road together this summer. [And] Simon & Schuster is releasing my autobiography this coming April.
E-mail to a friend

All About Reality Shows