By Ken Tucker





(Entertainment Weekly) -- November's TV movie "24: Redemption" found Kiefer Sutherland's Jack Bauer a chastened man. Helping orphans in Africa, he was hoarse not for the usual reason (barking orders), but from asking his Inner Good Guy for forgiveness for his CTU-agent sins.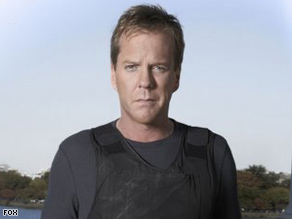 Kiefer Sutherland is back as Jack Bauer in the latest season of "24."
On "24's" long-awaited Day 7, Jack has returned to the States to face a congressional committee on charges of torture. Quixotic old Jack -- he now says he has no regrets about his previous actions.
Such heroic flip-flopping comes in handy when dishy FBI agent Renee Walker (Annie Wersching) yanks him out of his hearing to help pursue villains with ties to "Redemption's" African terroristic regime. These include Carlos Bernard's Tony Almeida, long thought dead by perhaps only one "24" fan in the universe. (That would be Jack.)
Everyone, good and bad guys, is racing around trying either to protect or take control of a "CIP firewall," some dealio that protects a lotta government info.
Er, OK. Whatever. Just as long as the action kicks into gear with a minimum of ridiculous plot-twisting -- unlike most of Day 6.
Don't Miss
Fresh characters like Agent Walker and the new president, Allison Taylor (a brisk Cherry Jones), mingle nicely with familiar faces like ... oh, if I told you, the whining spoiler-phobes would howl. Let's just say that after the two-night, four-hour season premiere, Jack will have threatened to jab a Bic pen into a bad guy's eardrum, and you'll feel the warm glow of sadistic glee that signals a jolly good start for vintage "24" mayhem. iReport.com: What do you think of the new season?

EW Grade: B+
E-mail to a friend

CLICK HERE to Try 2 RISK FREE issues of Entertainment Weekly
Copyright 2009 Entertainment Weekly and Time Inc. All rights reserved.