NEW YORK (CNN) -- Time Warner Cable and Viacom worked Thursday to finalize details on an agreement that will allow TWC customers to continue to watch programming on Viacom's MTV Networks, said TWC president and CEO Glenn Britt.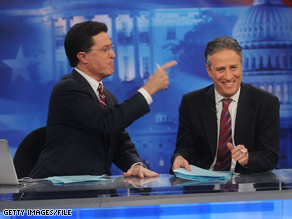 Stephen Colbert, left, and Jon Stewart host "Indecision 2008" on Comedy Central.
The developing agreement is expected to benefit both companies and their audiences, Viacom chief Philippe Dauman said.
Wednesday, TWC customers faced the prospect that channels such as Nickelodeon, Comedy Central and MTV could go dark as of 12:01 a.m. Thursday.
Those channels carry such popular shows as "The Daily Show with Jon Stewart," "The Hills" and "iCarly." Time Warner Cable reportedly has about 13 million subscribers and is a major presence in the New York City market.
The dispute arose after Viacom announced new fees for carrying its networks -- adding up to $39 million a year on top of the hundreds of millions of dollars TWC is already paying to Viacom, according to TWC spokesman Alex Dudley.
Dudley described the 15 percent overall increase in fees as "unreasonable," since programming rates are declining and the United States is facing terrible economic conditions.
TWC -- a unit of Time Warner, the parent company of CNN -- says it's working to protect its customers' interests, but Viacom argued the renewal fees were reasonable and modest when considering the profits TWC enjoys from Viacom networks.
According to Viacom, the new fees would amount to less than 2.5 percent of what TWC generates from their average customer.
E-mail to a friend