STORY HIGHLIGHTS
NEW: Adam Lambert tells CNN his kiss with a male keyboardist was not rehearsed
Michael Jackson wins four categories, including favorite pop/rock male artist
Night's big winner, Taylor Swift, takes five categories, including artist of the year
Did Lambert cross a line? The debate heats up tonight on "Showbiz Tonight" 11 p.m. ET
"American Idol" runner-up Adam Lambert stunned the AMA audience with a sexually charged performance. Was a line crossed or does he get a pass because he's gay? Watch as the debate heats up on "Showbiz Tonight" 11 p.m. ET tonight.
Los Angeles, California (CNN) -- Adam Lambert's sexually suggestive choreography -- including kissing another male -- on the American Music Awards stage Sunday night happened "in the moment," the singer told CNN.
Lambert, who is openly gay, said it is "a form of discrimination and a double standard" for anyone to object since "women performers have been pushing the envelope" for decades.
As for the awards, it was a big night for country and pop crossover sensation Taylor Swift with five and Michael Jackson with four.
The King of Pop's oldest brother, Jermaine, accepted the late singer's two awards, giving Jackson a record 23 AMA trophies. Jackson won favorite male soul/rhythm and blues artist, and favorite pop or rock male artist.
Jermaine Jackson wore a single sequined glove in honor of his brother. It was the same glove he wore at his brother's memorial service in July and funeral in August, he told CNN backstage. "I'll always keep it," he said.
He was asked his for his opinion about the auction this weekend that fetched $420,000 for the famous rhinestone-studded glove from a buyer in Hong Kong, China. Jackson wore the glove at a 1983 performance during "Motown 25," an NBC special where he debuted his revolutionary moonwalk.
"That's sad," Jermaine Jackson said. "They shouldn't do that."
But Michael Jackson lost to Swift for artist of the year.

Video: 'You don't feel lonely'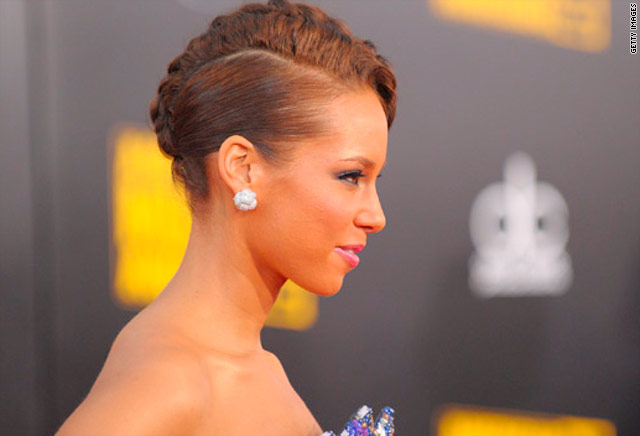 Gallery: American Music Awards arrivals

Video: AMA's rocked the night

Video: 'Looking for another singer'
Swift accepted the honor -- one of five she won Sunday -- from London, England.
"Music has never been, ultimately, about competition and to even be mentioned in the category with Michael Jackson is an unimaginable honor," Swift said.
The three-hour AMA telecast, which ended with Lambert's controversial performance, was filled with landmark moments on the red carpet outside of Los Angeles' Nokia Theatre as well as on the stage.
Rihanna took both the red carpet and the stage by a storm, nine months after she was beaten by boyfriend Chris Brown on the eve of the Grammys.
"I'm really happy right now," Rihanna told CNN as she arrived.
While she was not nominated for an award, Rihanna used her performance to promote "Rated R," her fourth album. It was set for release Monday.
Janet Jackson opened the show with a medley of her greatest hits, all from her recently released compilation, "Janet: Number Ones."
The most unusual performance may have been by Lady Gaga, who used a microphone stand to break into a large glass box to get to a piano that started burning as she played.
The most-out-of-sync honor may be for Jennifer Lopez, whose lips did not quite match her words as she danced in a boxing ring with six male dancers. To make matters worse, Lopez fell as she made a dramatic jump during the dance. ABC edited out the mishap for the West Coast feed.
ABC editors did not appear to remove any of Lambert's performance for the later feed. In fact, the network had teased the audience that it would be "an outrageous performance."
The dance included Lambert thrusting his hips forward when a female dancer's head was near his crotch. Lambert also shared that kiss with a male keyboardist.
Adrenaline is a crazy, crazy, crazy feeling.
--Adam Lambert
"I do feel like there's a bit of a double standard in the entertainment community, on television, on radio," Lambert told CNN backstage. "I feel like women performers have been pushing the envelope, especially, for the past 20 years. And all of the sudden a male does it and everybody goes 'Oh, we can't show that on TV.' For me, that's a form of discrimination and a double standard. And that's too bad."
Asked whether the sexual moves were rehearsed, Lambert said it was "in the moment."
"Part of what I love about being a live performer is that sometimes you just are in the moment and sometimes things just happen," he said. "Adrenaline is a crazy, crazy, crazy feeling. Some of the things I love most about performing is when you're up there and all of the sudden you just have these feelings, this rush that comes over you." iReporter says kiss is "what's wrong with America"
Whitney Houston's appearance may have been the most emotional. Her friends shed tears as Houston received a standing ovation from the audience after her forceful delivery of her newest song, "I Didn't Know My Own Strength."
Actor Samuel L. Jackson then presented Houston, who is in the midst of a career comeback, with an AMA international award of excellence.
Beyonce, who did not attend the show, won the favorite female soul/rhythm and blues artist, beating out Keyshia Cole and Keri Hilson.
"I don't expect to win, to be honest," Hilson told CNN on the red carpet. "I'm just happy to be here."
Country band Gloriana said it was surprised to win the breakthrough artist award, which member Mike Gossin said he expected to go to Lady Gaga.
It shows that America "has a place in its heart for a band of four kids who just studied music all their lives," Gossin said.
Winners are determined by online fan voting.
Other winners included:
-- Keith Urban for favorite country male artist
-- Taylor Swift for favorite country female artist
-- Taylor Swift for favorite adult contemporary artist
-- Jay-Z for favorite rap/hip-hop male artist
-- Rascal Flatts for favorite country band
-- Black Eyed Peas for favorite soul/R&B band
-- Green Day for favorite alternative rock band
-- Taylor Swift for favorite pop or rock female
-- Michael Jackson's "Number Ones" for favorite pop/rock album
-- Taylor Swift's "Fearless" for favorite county album
-- Jay-Z's "Blueprint 3" for favorite rap/hip-hop album
-- "Twilight" for favorite soundtrack album
-- Aventura for favorite Latin artist
-- Mary Mary for favorite contemporary inspirational artist

FOLLOW THIS TOPIC