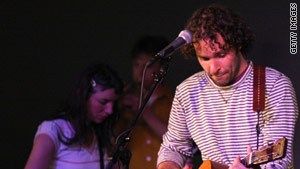 STORY HIGHLIGHTS
Blind Pilot has done two tours on bicycles and is planning a third

Strenuous? Yep, but also "challenging and exciting"

Band's new album is "3 Rounds and a Sound"

Los Angeles, California (CNN) -- Blind Pilot will be pedaling to a stadium near you in no time.
Well, the Portland, Oregon-based folk-rock band, whose members are fond of their bicycles, may not be packing stadiums just yet. But with high-profile supporting slots for bands like the Decemberists, Counting Crows and the Hold Steady -- and having their song "Story I Heard" downloaded 2 million times on iTunes -- it could be just a matter of time.
The founders of the band -- Israel Nebeker and Ryan Dobrowski -- aspire to no such heights, however. They're just trying to make music that might appeal to people in rural towns and bigger cities outside of Portland, they say.
What they're really in it for is the riding. The group recorded its acclaimed debut album "3 Rounds and a Sound" (Expunged) just for that reason, says drummer Dobrowski: "We just wanted something to fund another bike tour."
He's serious. Blind Pilot is already planning their third such tour, the last of which took them all the way from Vancouver, British Columbia, to San Diego. It isn't always wonderful. They get lost at times. They don't always have confirmed lodging at night. Yet the band considers itself fortunate and calls the decision to haul around standup basses and drumkits on bicycles a "momentous occasion."
Now expanded to six members, Blind Pilot will be bringing its alluring folk-pop to clubs and small theaters all across the U.S. on their current fall tour.
"The goal is to write some songs so we can pack some instruments on the back of bicycles and pedal down the coast. If our idea was, 'Let's write songs to play in stadiums all over the world' ... those songs would be different," says Nebeker.
CNN sat down with Blind Pilot's founding fathers in Los Angeles.
CNN: How did the famous bike tour start?
Ryan Dobrowski: I thought it would be really great to be in a band that hauled all their own gear because it seemed like such an enjoyable way to travel. Israel was into biking, too. I brought it up, and he got into the idea and then it became the idea we wanted to work towards.
Israel Nebeker: Now that I think about it, it's funny that it took over our lives from that point -- from you mentioning it that night.
Dobrowski: There was no [waffling] -- it just became what we were going to do, no matter what. We started our tour in Vancouver, B.C., and were dropped off with our bikes and gear. We didn't even have a map to get out of Vancouver. It was rather frustrating.
Nebeker: In hindsight, it would have been good to have a map. (Both laugh) Getting lost was part of the fun, too.
Dobrowski: It was one of those moments in life where it seemed like the grass couldn't get any greener. The whole intention of [this album] was to do the same [tour] but with more songs.
Nebeker: We gave ourselves a week and a half to do the album and then it was off to another bike tour. But we had to make a decision to make this album as good as it could possibly be or are we going to go on another bike tour. We chose the first.
CNN: Are there plans for bike tours in the future?
Nebeker: We're touring right now by van, and we're so fortunate to travel across the States and play for people. But I think there will be some time before the next album, maybe next spring, when we can go on a bike tour.
CNN: Is it physically arduous?
Dobrowski: We didn't train or anything, but we [deliberately] scheduled some shorter trips -- 30 to 40 miles -- to start out. By the time we got down here to L.A., we could just ride and ride and you looked forward to the hills because they were challenging and exciting.
CNN: The album title -- "3 Rounds and a Sound" ...
Nebeker: I was reading about bicycles in China and how important it is to each family [there] to own a bicycle. The writer was quoting this traditional phrase "three rounds and a sound," which refers to the things that a newlywed couple need to start their life together: the round of a clock face, the round of a bicycle wheel, the round of a spool of thread and the sound of a radio.
It just struck me as relevant to my own life, kind of practical things that take precedence over romantic ideas of what love is or what makes a relationship sustain.
CNN: Are there songs you consider cornerstones of the album?
Nebeker: When we were first touring as Blind Pilot it seems like "Go and Say It" and "Story I Heard" were songs that came together right at that time.
CNN: The album as a whole has a timeless feel. How did you accomplish that?
Dobrowski: It's easy to put too much into a song. If a song is good without all that stuff, then it's probably going to have that feeling that you talked about. If it's not a very good song and you add a bunch of cool effects -- it might sound cool or sonically interesting at first, but it will only be interesting for a couple of weeks.
The way we started, stripped down to melody, lyrics, chords, rhythm -- which is the most basic structure of a song -- then in the studio we listen for what we could bring in to make some parts build and swell a little bit as opposed to relying on those [sounds] completely.
CNN: Do you have a sense of where you want your music to go from here?
Dobrowski: Stadiums. (Both laugh)
Nebeker: This will be the first time we will have written songs with the notion that we have all these instruments to draw on [with this larger band]. They are all great and creative musicians so I'm sure the process will be different and we'll come up with some new sounds.