Jackson's hometown pushes for museum, hotel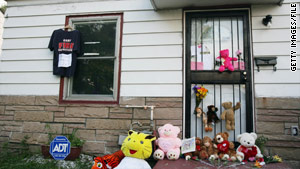 Mourners left gifts at the Jackson family house after Michael Jackson's death in June.
STORY HIGHLIGHTS
Joseph Jackson and Gary, Indiana, mayor pushing for Jackson tourist sites
Idea calls for museum, hotel, performing arts center
Michael Jackson and siblings were born in Gary, moved to Los Angeles
Los Angeles, California (CNN) -- Michael Jackson's father and the mayor of Gary, Indiana, want to build a museum, hotel and performing arts center in the Jackson family's hometown, a spokeswoman for the mayor said.
The Jackson Family Project is still in the concept stages, but Joe Jackson and Mayor Rudy Clay are in Las Vegas, Nevada, this week to meet with possible partners and investors, spokeswoman Lalosa Burns said.
"Everything is in the proposal and concept stage," Burns said.
The plan is for a hotel built around a Jackson family museum and a Michael Jackson performing arts center and theater, she said.
The proposal will be outlined at a news conference at the Palms Casino in Las Vegas on Wednesday afternoon, according to a statement from Brenden Theatre Corp.
Joe and Katherine Jackson started their large family in a two-bedroom house in a working-class neighborhood in Gary. All 10 Jackson children were born in Gary between 1950 and 1966, including one who was stillborn.
The Jacksons moved from Gary to Los Angeles, California, in 1971 amid the success of the Jackson 5 group, which featured Michael Jackson and four older brothers.
Their home at 2300 Jackson St. is still a shrine for the occasional tourist.
"We do hope to have, even if not the house, a replica of the house" included in the project, Burns said.
Callers to the Gary City Hall who are put on hold are treated to the Jacksons singing "2300 Jackson Street," a song about growing up in the city they sing is "always home."
"We're all united and standing strong, and still today we're one big family," the lyrics say.
FOLLOW THIS TOPIC