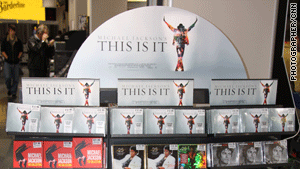 "This Is It," the new album from Michael Jackson arrived in stores Monday.
STORY HIGHLIGHTS
Retailers hope album will be a bestseller throughout the holiday season

Two-disc Jackson album coincides with documentary film and exhibition

Devoted fans pick up "This Is It" to complete their Jackson collections

American Morning's series "Michael Jackson the Legend Lives On" continues Tuesday 6 a.m. ET
LONDON, England (CNN) -- A newly-released Michael Jackson album is drawing devoted fans back to stores today, ahead of a week of celebrations in memory of the pop singer.
Retailers are hoping the two-disc album. "This Is It," which features both greatest hits and a new title track, will be a bestseller throughout the upcoming holiday season.
"It's Michael Jackson, so we're going to have to get it," said 47-year-old Francis Okolo, as he bought a copy for himself and his wife at the HMV store in London this morning.
Okolo told CNN that he intended to buy "at least two or three more" copies of the new album as Christmas presents for his family who he said "grew up listening to Michael."
Nearby another shopper picked up two copies for herself and a friend, along with a new Michael Jackson t-shirt. "I learned to dance copying his videos," said 23-year-old Vicky "Skytilz" Mantey. "I've got all his albums," she added.
Immediate sales of the new album are not expected to compare with the surge that occurred in the days following the star's death in June, but a spokesperson for HMV said he anticipates the album will be "among the top five for the next two months."
"Forty percent of annual sales are in the run up to Christmas," explained Gennaro Castaldo. "This is a huge release for that period."

Video: Low fanfare for Jackson album

Video: Michael Jackson's money trail

Video: Jackson's last great performance

Video: Jackson movie outrage
"It's not quite the huge emotional response as the day after. We'll have to wait over the next few weeks to see the extent of the interest [in the album]," Castaldo said.
The release of "This Is It" accompanies the worldwide premiere Wednesday of the documentary movie of the same name. Directed by Jackson's long-time collaborator Kenny Ortega, the film shows the performer in his last days, singing and dancing as he rehearses for his then-upcoming concert series.
The new film, along with the opening of an exhibition of Jackson memorabilia in London this week, should help boost awareness about the album to a broader Jackson fanbase and help market the item as a hot holiday gift, Castaldo said.
As 18-year-old Matt Rosser bought a copy of the new album for his mother, he told CNN he was "gutted" about Jackson's death. Like several other shoppers, he said he already had his ticket to the movie version of "This is It" for later in the week.
Several retailers have ramped up merchandising efforts accordingly, stocking up on Jackson apparel, posters and books. There's even a new calendar which HMV anticipates will be its top-selling one for 2010.
Some of the Jackson merchandise was already on-hand in preparation for his planned concert series at London's O2 Arena, Castaldo explained.
Since licensing has eased in the wake of the star's death, more manufacturers than ever are churning out Michael Jackson paraphernalia. Share reviews of movie, soundtrack
The first disc features original album masters of some of Jackson's best-known hits, in the order they appear in the film, including "Billie Jean" and "Wanna Be Startin' Something."
It also includes the album's title track, which Jackson planned to debut during the London concerts. The second disc presents several unreleased versions of the classic tracks as well as a spoken-word poem entitled "Planet Earth."