By Shanon Cook
CNN





NEW YORK (CNN) -- Michael Bublé has the world on a string.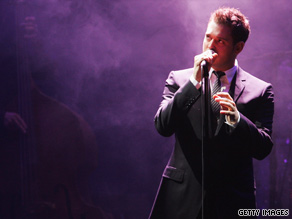 Michael Bublé's "Crazy Love" has him thrilled, if a little crazy himself, after dealing with all the press.
The Grammy-winning crooner's new album "Crazy Love" debuted atop the Billboard charts this week. Selling more than 132,000 copies, it triumphed over rock band Kiss' first album in 11 years, which took second place.
Bublé was suitably giddy while talking to CNN.com yesterday in his first interview since hearing the news he had his first No. 1 debut on his hands.
"It was my take on the state of love," he says of the album, which mixes jazz standards ("All Of Me"), pop covers (Van Morrison's "Crazy Love" and the Eagles' "Heartache Tonight") with two original songs Bublé co-wrote.

Watch Bublé talk about loves past and present »
Please don't ask me ...
While doing endless press interviews about "Crazy Love," Bublé says the most common thing people ask is, "What's the craziest thing you've ever done for love?" He says he's really tired of answering that question and is likely to make up something ridiculous when asked ("I killed a man!").
'What about Oprah?'
Bublé made his first appearance on "The Oprah Winfrey Show" last week, much to the delight of his mother, Amber, who joined him on the show. Mother Bublé stopped watching Oprah for a three years out of protest because her son hadn't been invited on the show. Says Bublé: "She's a big fan of Oprah, and no matter what I got it didn't matter. I'd be like 'I sold a million records' and she'd be like 'Mmm hmm.' I'd say, 'They're going to put me on American Idol' and she'd say, 'What about Oprah?' "
Romancing Argentina
A native of Canada (and a huge ice hockey fan -- go Canucks!), Bublé divides his time between his homes in Vancouver, British Columbia, and Los Angeles, California. He's also been making frequent trips to Buenos Aires, Argentina, since he started dating actress/model Luisana Lopilato (she's the love interest in Bublé's "Haven't Met You Yet" music video). Bublé says his Spanish is getting better and he's warming to his gal's homeland: "Argentina is an absolutely beautiful country. Really warm people, great food. I enjoy it there. [Lopilato] has a really nice family."
On heartache
Bublé, who admits he had a hard time coming to terms with the demise of his three-year relationship with actress Emily Blunt, offers his perspective on heartache: "The point of it is to give us an opportunity to look at why it happened in the first place and to try to make sure that each time we go through another relationship that we don't allow the same issues to affect us. I needed to be woken up, not with a light little shake of 'wake up mikey-pooh.' ... I needed a good kick in the head. I've been sleeping for a while, but I'm awake now."

Keeping it real
Bublé didn't want "Crazy Love" to sound overproduced and slick, so he opted for recording many of the tracks with a live band, sometimes deliberately leaving the door open during recording sessions to allow natural sounds to creep in: "We mixed it differently where you capture the air in the room and you get great presence. It actually feels like you're sitting there in the room. It's not overly compressed or messed with."
E-mail to a friend

All About Michael Buble