By Eliott C. McLaughlin
CNN





ATLANTA, Georgia (CNN) -- Yes, they signed with a mega-label and are cashing checks as a late-night show's house band, but sellouts? The Roots?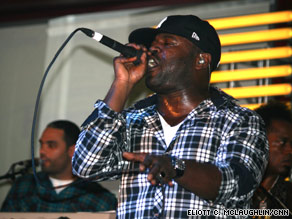 Black Thought and The Roots take a break from their late-night gig to perform at Atlanta's Velvet Room.
The Philadelphia hip-hop crew's drummer shakes his head: It's just business, man.
?uestlove said he doesn't appreciate a lot of the labels placed on the band -- underground, alternative -- but he conceded that some of The Roots' moves of late keep their fans curious and he doesn't mind making them say, "OK, I gotta see what happens next."

Watch what defines a sellout »
Known as sticklers for remaining "independent" and bucking trends that drive many of their hip-hop counterparts, The Roots joined Island/Def Jam in 2005 and earlier this year walked on stage as the house band for NBC's "Late Night with Jimmy Fallon."
"I don't know if selling out is even a factor in 2009. There's being responsible, and there's being businessmen," he said. "My definition of selling out is when your products start sounding crappy and when you phone it in from home. But I don't think there's anything compromised or rushed or ill-timed or misthought about our career decision.
"As long as the music's funky and true, and our art is still represented, I don't see that at all," he said during a recent stop in Atlanta for the Hennessy Artistry Series that he and rapper Common are promoting.

Meet The Roots »
Playing on a late-night show, ?uestlove said, is a nice fit for The Roots. The six-piece band, fronted by ?uestlove's childhood friend and band co-founder, Black Thought, has always placed a special emphasis on its performances.
They've performed with a slew of musicians, ranging from blues legends Robert Cray and Etta James to R&B's Erykah Badu and hip-hop's Jay-Z and Talib Kweli.
During Saturday's performance in Atlanta, Georgia, they backed up Common, singer Amerie, Canadian songstress Anjulie and '90s R&B sensations Boyz II Men. They also played a few songs from the 10-album catalog they've compiled since 1993. Their next album, "How I Got Over," is slated for release next month.

Watch The Roots, Common declare loves of their lives »
Don't Miss
?uestlove said collaboration is one of the reasons the band enjoys the late-night circuit.
"The fact that we get to back up or play with or collaborate with Q-Tip, Paul Simon, Ghostface, Michael McDonald, a whole array of artists -- that's the coolest job in the world to me," he said.
?uestlove, whose real name is Ahmir Thompson and whose nom de stage is pronounced "Questlove," acknowledged that some of The Roots' fans didn't see the move as a "a glamorous or glorious thing."
"They sort of see it as a second-banana, 'minionized' position, and I think that slowly but surely we're really just trying to redefine the art of the house band," he said.
The key, ?uestlove said, is to keep doing what they're known for -- meshing thought-provoking rhymes with horns, keyboards, strings and percussion, and by showing off their "chops" backing up any artist you can throw at them.

Watch them back Boyz II Men »
In a musical genre known more for its synthesis and DJs than for its sousaphones and electric guitars, ?uestlove said he never saw The Roots as going "against the grain."
"Despite the fact that in the beginning we were marketed as alternative -- you know, no samples, no DJ, just a funky band -- I think at the end of the day we were six cats that loved hip-hop so much that we just knew how to duplicate the break beats that hip-hop was sampling," he said.
Often, DJs are influenced by their parents' record collections, he said. They'll take the albums and use them to make new beats and rhythms.
"We just took it a step further," ?uestlove said. "We took our parents' record collection and we just emulated it. We were musicians."
Hip-hop is not famed for the longevity of its luminaries, but ?uestlove and Black Thought, aka Tariq Trotter, have been performing for crowds since the late 1980s.
They've seen a handful of artists and MCs come and go since forming the band under the moniker The Square Roots in 1991 -- among them, the infamous human beatboxes Scratch and Rahzel as well as record producer Scott Storch, who used to play keyboards.

So, how does a band stay relevant in an era when hip-hop fans seem to prefer overproduction and auto-tune to substantive musical compositions?
"I don't know if there's a secret that I can say that makes us unique or that I can pinpoint to the magic. I just say that we're very, very disciplined, we're professional, we practice a lot and we show up on time," ?uestlove said, laughing. "That's it. That's all you need."
E-mail to a friend

All About Hip-Hop and Rap • Common (Rapper) • Boyz II Men • Jimmy Fallon