(CNN) -- Mary Travers of 1960s folk trio Peter, Paul and Mary, has died, according to her publicist. She was 72.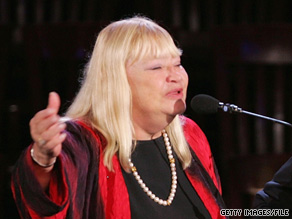 Mary Travers performs at the 2004 Democratic Convention in Boston, Massachusetts.
Travers died from side effects of treatment from a bone-marrow transplant after battling leukemia, publicist Heather Lylis said.
The singer was born in Louisville, Kentucky, in November 1936 and grew up in New York's Greenwich Village. As a teenager, she performed in a Broadway review, but stepped on to the folk music scene in the 1950s. She emerged as an iconic folk singer while performing with Peter Yarrow and Noel Paul Stookey.
Peter, Paul and Mary came together while singing "Mary Had a Little Lamb" in Stookey's New York City apartment. They went on to play gigs at coffee houses and later on the radio.
"As a performer, her charisma was a barely contained nervous energy -- occasionally (and then only privately) revealed as stage fright," Stookey said.
Their music reflected the 1960s and the 1970s, a time of turmoil as the civil rights and anti-war movements moved into full swing.
Travers applied her recognition to rally behind those progressive movements. In 1963, the trio performed its hit song "If I Had a Hammer" at the Washington march where Dr. Martin Luther King Jr. delivered his famed "I Have a Dream Speech," her publicist said.
"We've learned that it will take more than one generation to bring about change," Travers once said. "The fight for civil rights has developed into a broader concern for human rights, and that encompasses a great many people and countries. Those of us who live in a democracy have a responsibility to be the voice for those whose voices are stilled."
Travers advocated against U.S. government moves in Central America in the 1980s. She went on a mission to El Salvador and later spoke out against the country's regime. She also opposed American funding of a militant group in Nicaragua set on overthrowing an elected government there, according to her publicist.
Peter, Paul and Mary recorded hits still recognized now, including "Leaving on a Jet Plane," "Puff the Magic Dragon" and "Where Have All the Flowers Gone." They performed together for nearly 50 years, winning five Grammys and releasing 13 Top 40 hits, six of them in the Top 10 charts.
Their debut album, "Peter, Paul and Mary" was on the Top 10 chart for 10 months. Travers also recorded four solo albums in the 1970s.
"Her talent was huge ... Mary was the difference maker," said Joe Smith, former head of Warner Brothers Records. "Super bright, super talented, and a pleasure to know and work with."
Their last performance was in New Brunswick, New Jersey, on May 20. Those closest to Travers say she valued her friendships.
"Perhaps the most remarkable aspect of my relationship with Mary Travers over the last almost 50 years is how open and honest we were with each other, and I include Noel Paul Stookey in this equation," Yarrow said in a statement.
"Such honesty comes with a price, but when you get past the hurt and shock of realizing that you're faulted and frequently wrong, you also realize that you are really loved and respected for who you are, and you become a better person."
She is survived by her husband, Ethan Robbins; her daughters Alicia and Erika; her sister, Ann Gordon; and her granddaughters Wylie and Virginia.

E-mail to a friend

All About Folk Music