By Alan Duke
CNN





LOS ANGELES, California (CNN) -- Kanye West called Taylor Swift with a "very sincere" apology Tuesday for interrupting her acceptance speech at Sunday's MTV Video Music Awards, Swift said.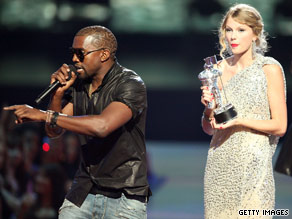 Kanye West called Taylor Swift to apologize for hijacking her speech at the 2009 MTV Video Music Awards.
West phoned Swift following her appearance on ABC's "The View" Tuesday, her publicist said.
Swift talked about it in a radio interview with ABC.
"Kanye did call me and he was very sincere in his apology," she said. "And I accepted that apology."
The apology came the morning after West, in an interview with Jay Leno, appeared to blame the pain of his mother's death two years ago for his "rude" behavior.
The rapper told Leno he would now "take some time off" to think about how he will "make it through the rest of this life."
West's appearance on the prime-time premiere of "The Jay Leno Show" capped a 24-hour period that began Sunday evening with him strolling down the red carpet at New York's Radio City Music Hall while gulping from a bottle of cognac.
The low-light came about an hour later, when West jumped onstage and grabbed the microphone from Swift as she accepted the Best Female Video award. West declared that Beyonce Knowles should have won.
West appeared sober and humble when he spoke on Leno's Los Angeles stage Monday, an appearance that was originally to be just musical.

Watch West give an emotional interview to Leno »
"I immediately knew in this situation that it was wrong," West told Leno. "And it wasn't a spectacle, you know. It was actually someone's emotions, you know, that I stepped on and it was very, it was just, it was rude, period."
When Leno asked West what his mother would have thought of his behavior, he fell silent for more than a dozen seconds and appeared near tears. Leno pressed him again.
"Would she be disappointed in this? Would she give you a lecture?"
West gave a rambling, emotional answer:
"Yeah, you know, obviously, you know, I deal with hurt and, you know, so many, you know, celebrities, they never take the time off, and I've never taken the time off to really, you know, I just, music after music and tour after tour on tour, and I'm just ashamed that my hurt caused someone else's hurt."
West said he wasn't trying to justify his behavior, "because I was just in the wrong. That's clear."
"But I need to, after this, just to take some time off and analyze how I'm going to, you know, make it through rest of this life, how I'm going to improve," he said. "Because, I am a celebrity and that's something I have to deal with."
He said he would like to personally apologize to Swift, a 19-year-old pop-country singer.
"And if there's anything I can do to help Taylor in the future or help anyone, I want to live this thing. It's hard sometimes, so."
After his four-minute talk with Leno, West joined fellow hip-hop superstars Jay-Z and Rihanna to perform "Run This Town," a song they recorded together.
The timing of West's antics came at a good time for Leno, who embarked on a new era of his career Monday. After 17 years of hosting "The Tonight Show," Leno debuted his 10 p.m. weeknight talk show on NBC.
Apologies from celebrities behaving badly have boosted Leno's ratings.
In 1995, Leno enjoyed a ratings-grabbing moment when he asked actor Hugh Grant, "What the hell were you thinking?" Grant had been arrested two weeks earlier for public lewd conduct with a Hollywood hooker.
When Grant told Leno "I did a bad thing," it gave Leno's "Tonight Show" a viewership bump that has been credited with solidifying his lead over rival David Letterman in the late-night ratings war.
This is just the kind of "immediacy" Leno was talking about in a call with reporters last week.

"The idea here is that we'll tape a new, fresh show every single day, talking about the events that happened that day that night," Leno said.
Jerry Seinfeld also appeared on Leno's premiere Monday.
E-mail to a friend

All About MTV Video Music Awards • Kanye West • Taylor Swift • The View (TV Show) • Jay Leno