By Lisa Respers France
CNN





(CNN) -- It's nothing for Perez Hilton to navigate the roads of Los Angeles, California, keeping appointments and conducting interviews at the same time.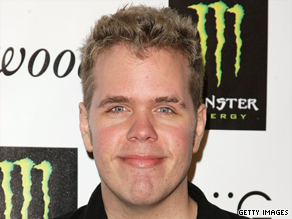 Perez Hilton's passion for music has led to his organizing a 20-city music tour.
Multitasking is a way of life for the celebrity blogger whose millions of readers have helped make him as famous as some of the many stars he writes about (and skewers) daily.
Hilton has added one more task to his already full plate with the launch of a 20-city music tour featuring some of his favorite acts.
"Perez Hilton Presents" will showcase musicians like Ladyhawke, Ida Maria, Semi Precious Weapons and Sliimy, the first artist signed to the bloggers Perezcious Music label.
Hilton, whose real name is Mario Lavandeira, already has plenty to do running his gossip site, PerezHilton.com, and a fashion site, CocoPerez.com. His hard work is all part of a plan, he said, to expand his brand and become "the gay, Latino Oprah."
Pursuing such lofty goals has also resulted in a few high-profile controversies, including an alleged assault involving the Black Eyed Peas and the media firestorm that surrounded his gay marriage question to former Miss California, Carrie Prejean.
Hilton recently took a break to talk about how he balances it all, some of the music artists he has helped launch to stardom and why he won't be going on a date with Zac Efron anytime soon.
CNN: So tell us about "Perez Hilton Presents."
Perez Hilton: It's a dream come true and something I have been working toward for years now. I've had the idea of wanting a tour for a long time and it's all coming together finally.
The tour is really a natural progression extension of what I have already been doing.
I have been putting on events worldwide and I've had such amazing people perform at them such as Kanye West, Katy Perry, Lady GaGa, N.E.R.D. and smaller, cool underground artists.
Now I am taking that concept of my own mini-festival and I am opening it up to all ages and making it very affordable for people. I think I am providing a very cool experience that folks may not have had access to otherwise.
CNN: Have you always been such a huge fan of music?
Hilton: It's the thing I am most passionate in life about.
CNN: What are some of the genres of music that you like?
Hilton: I grew up listening pretty much just to pop music. But the older I've gotten, the more varied my musical tastes have become.
I like good music period. The artists on my bill are quite eclectic, from all over the world, representing all genres from singer-songwriter to glam rock, to pop, to dance and rock.
CNN: What makes you the arbiter of what's cool in music?
Hilton: Time and trust. I've been recommending artists on my Web site for years and I've recommended a lot of musicians that have gone on to do extremely well.
I think I have earned the trust and respect of my readers who know that there is no "payola Perez" and I only recommend things that I love and believe in.
CNN: Who are some of the artists who you helped push mainstream?
Hilton: I don't ever like taking credit for anyone's success, but I definitely would say that I've helped a lot of people along the way.
Look at the reigning top darlings of 2009 and 2008. I was on to them before a lot of other people.
For example, Lady GaGa, I wrote about her a year and a half ago. Katy Perry, I first wrote about her in March of 2007 and that was well over a year before they released her album.
CNN: A lot of your success initially came from being grassroots, but now you are so famous. Do you still feel like an outsider or are you now an insider?
Hilton: I feel like I am both an outsider and an insider and I kind of like it that way.
I am never going to be very Hollywood because on one hand half of Hollywood hates me and on the other hand half of them love me.
Yet a lot of the ones who hate me still read my Web site and that's all I care about really.
CNN: Do you feel in control of your celebrity?
Hilton: I like to have fun with the concept of celebrity.
I purposely do things to try to get attention like start trying to get into drama with celebrities on Twitter.
CNN: With everything you have going on, how do you find time to post on PerezHilton.com so often?
Hilton: I become a hermit when I am in Los Angeles and I don't leave my apartment at all from Monday through Thursday unless I have to and I don't get much sleep.
CNN: How many people do you have working on team Perez?
Hilton: I have quite a few now, thankfully.
It would be impossible to do everything now on my own. I have people helping me out with the music stuff, people helping me out with the touring stuff and the Web site.
There is definitely a team in place and it's only happened over the last couple of months.
CNN: Because you have been so critical of celebs, do you understand the backlash you have experienced over things like your feud with Will.I.Am?
Hilton: Absolutely. I am thankful for that experience and the Miss California experience.
I learned a lot in this past year and what matters to me is that right now I am happier than I have ever been before because I have so many amazing things that I am working on.
CNN: You seem like you have been able to keep a great deal of your own personal life out of the public arena. Has that been done purposefully?
Hilton: (Laughing) No. I wish I was dating a celebrity. That would be fabulous, but Zac Efron's not returning my calls, sadly.
E-mail to a friend

All About Perez Hilton • Lady GaGa • Katy Perry • Music