(CNN) -- R&B singer Chris Brown pleaded guilty to felony assault after a widely publicized incident with his former girlfriend, Rihanna. A second felony charge of making criminal threats was dropped.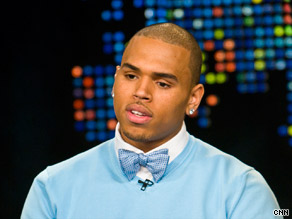 Chris Brown says he still loves Rihanna despite pleading guilty to assaulting her in February.
On August 25, Brown was sentenced to five years probation and six months of community labor.
Brown breaks his silence to CNN's Larry King in his first TV interview since assaulting Rihanna.
He talks about what happened the night of the assault, the infamous photo of a battered Rihanna and his feelings for her today.

Watch why they are 'like Romeo, Juliet' »
Larry also talks with Joyce Hawkins, Brown's mother, and his attorney Mark Geragos. The following is an edited version of the interview.
Larry King: This had to be the worst period of your life.
Chris Brown: Possibly, yes.
King: Are things calm for you now?
Brown: I think it's more a relief now that everything is kind of all said and done as far as like what I have to do and what's going on. I think it's no more media frenzy for them to, kind of, blow out of proportion anymore.
King: So you're glad it's over?
Brown: Yes.
King: Explain quickly, Mark, what he pled guilty to.
Mark Geragos: Assault, basically, was what it is -- a felony assault charge; sentenced to five years of probation; as you said, 180 days of what Judge (Patricia) Schnegg calls community labor. And he has to undergo a domestic violence program for one year.
King: And five years means you've got to be like perfect.
Geragos: It means he walks the straight and narrow for five years.
King: And before we get into the meat of everything, Chris, how have you handled all this, Joyce?
Don't Miss
Joyce Hawkins: It's probably the most painful time of my entire life. It's been hard, really hard, seeing him going through the pain and everything that he's gone through, dealing with the media and dealing with the situation. It's been really hard.
King: Especially with all the pain you've had in your life.
Hawkins: Yes, along with that.
King: The labor-oriented service, what does it mean you have to do, Chris? This is back in Virginia, right?
Brown: Yes, back in Virginia.
King: What do you have to do?
Brown: I think they want me to do anything -- anything from picking up trash on the side of the street, washing cars, graffiti removal, I mean anything. But it's the law, so I'm willing to do whatever they want me to do.
King: Is it fair?
Brown: To me, possibly everything comes with consequences. So I feel like definitely it is. And I have no misjudgment on what the judge has given me. So I'm willing to do anything they ask.
King: So you feel it's fair?
Brown: Yes.
King: The judge was very specific. She wanted labor involved in the punishment.
Brown: Yes.
King: What did that mean to you when she said that, hard work?
Brown: Hard work, yes, definitely. And I'm a very hard worker, so -- that's kind of -- I wouldn't say second nature, but it's definitely something that I'm willing to do.
As far as the actual what I have to do, I felt personally that, as far as not saying as -- as a celebrity, because I don't exclude myself and try to become like, 'Oh, I'm a celebrity so I shouldn't be punished.' But I feel like with what I'm capable of doing as far as influencing people, influencing kids, the youth, I can do a lot more to help the community other than picking up trash. But I don't -- I'm not saying picking up trash is something wrong. I'm willing to do it. But I'm just saying, I know I can do a lot more, which I intend to do, aside from our community service.
King: The sentencing judge, as I understand it, has not lifted a protective order the court imposed on you in connection with Rihanna. That means you can't be with her?
Brown: No, I can't. I can't communicate. Nothing.
King: Do you think that's fair?
Brown: It's kind of hard, definitely, because her being my friend for so long and us being that close of a friend, it's kind of like, wow, like, not being able to see or talk to that person is kind of difficult. But it's also hard because we're both in the same industry. We go to the same events.
King: But you cannot go together?
Brown: Not at all. We have to be like 10 yards away from each other, but I just feel like it's harder, because we're always in the same vicinity, and because we have the protection order, it leaves more room for error. It leaves more room for people to start rumors and start more stuff, like, oh, they're together. They're not supposed to be together. And it just kind of leaves more room for problems.
King: How well do you know Rihanna, Joyce?
Hawkins: I've known Rihanna for four or five years.
King: Do you like her?
Hawkins: I like her, yes.
King: When the incident happened, how did it hit you?
Hawkins: Like I said, I was devastated. I was really upset about the situation and really felt really bad about this whole situation really...
King: Were you shocked?
Hawkins: Very shocked. Very shocked.
King: Simply put, when was the last time you had contact with (Rihanna)?
Brown: It's been a couple months, because I think that's when the actual stay away order was in effect. So from there, we haven't had contact at all.
King: Do you love her?
Brown: Definitely.
King: In love with her?
Brown: Definitely.
King: When did you first see (the photo of Rihanna's face after the February 8 altercation)?
Brown: I first saw it, I think, like maybe a week after the incident. I think TMZ or somebody posted it.
King: What did you think?
Brown: I didn't know what to think at the time. I was like what, like, because at the time, I just didn't know honestly what to think. And I didn't know if the pictures were altered. I didn't know if they were real. I didn't know what. So I was just like, 'Man, I just felt so disappointed in myself.'

Watch Brown say he's ashamed about incident »
King: But you accepted the fact that you caused it?
Brown: I accepted the fact, yes.
King: And when you look at it six months later, do you have a different reaction?
Brown: When I look at it now, it's just like, "Wow, like, I can't believe that actually happened. It just really like took a toll on me.
King: All right, let's go back. You're driving home from a pre-Grammy party with Rihanna, right? What happened?
Brown: Well, Larry, I don't feel like it's appropriate for me to speak on what actually happened on that night, just out of respect for Rihanna and myself. And I respect our privacy more and I don't want to just go into that.
King: No, but can you tell us, from a point of view, what happened? I mean what caused this? You don't have to be specific, but can you tell me what -- I mean, had you -- had you done this before?
Brown: No, I'm sorry. I mean, I don't want to really talk about what went on. I feel like I owe it to her not to talk about that.
King: What do you think caused you to be violent? I mean, you have to think about it. Everybody -- we all think about ourselves -- why did I lose my temper, why did I get angry over this?
Brown: I mean, that's relationships. I wouldn't say it's OK. I think, just in relationships in general, there's chances where you lose your temper or like arguments get heated or whatever the case may be. I'm not saying domestic violence is a part of relationships.
I feel like that we're young. We're both young. So nobody taught us how to love one another. Nobody taught us a book on how to control our emotions or our anger. I'm not trying to fall on the fact that I'm young. I'm just saying it's a lot of stuff that I wish I could have changed that night.

Watch how viewers react to Brown's apology »
King: When you hear about all the things that the police and the reports say you did, how do you react to that?
Brown: I'll just look at it and like, "Wow, like, I'm in shock. Because, first of all, that's not who I am as a person and that's not who I promise I want to be.
King: Do you remember doing it?
Brown: No.
King: You don't remember doing it?
Brown: I don't. It's like it's crazy to me.
King: What did he say to you, Joyce, when this happened, the first time you spoke to your son?
Hawkins: He came and he actually spoke to me about what happened. And I was totally shocked, totally upset about the whole situation, because I know that Chris has never, ever been a violent person, ever. I mean throughout the entire time, even through high school or anything.

King: You're a great dancer, a great singer, you're popular, you're known all over the world. Do you ever say to yourself I screwed up?
Brown: Every day. Every day. I think this is probably -- like I said, it's probably one of the worst moments of my life. And I always wish like I could take it back. And every day, it's just something that sticks in my mind. And I've said countless times how sorry I am to Rihanna, and I just accepted full responsibility. But it's just one of those things I wish I could have relived and just handled totally different.
E-mail to a friend

All About Chris Brown • Rihanna