(CNN) -- The future of a reality show that Adam "DJ AM" Goldstein was working on for MTV remains undecided after his death Friday night, his publicist said Monday.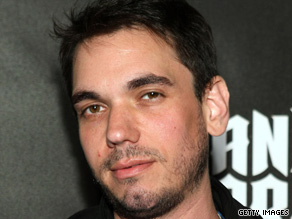 Adam "DJ AM" Goldstein claimed to have 11 years of sobriety after being addicted to crack cocaine.
"It is too soon to have made any decisions at this time regarding the status of the show," Jenni Weinman said in an e-mail regarding "Gone Too Far," a show about drug addiction that was set to debut in October.
It was a subject close to his heart. The successful deejay and entrepreneur was a self-described crack cocaine addict who had 11 years of sobriety and wanted the show to help others.
Since his death, blogs and message boards have been full of speculation over whether the show contributed to his death.
Goldstein's body was found in his New York City apartment with a crack pipe nearby and a half bag of crack cocaine and prescription drugs in the home, a police source told People.com.
In an interview with MTV this summer, Goldstein, 36, admitted that producing the series presented its share of trials for the recovering addict in him. iReport.com: DJ AM brought rock, rap together
He recalled one moment early in shooting in which he purchased a crack pipe from a local corner store to show how easy they were to procure.
"I realized after I was holding it my palms were sweaty and I was like, wait a minute, this is not smart for me to be holding this and I started really kind of freaking out," he said in an interview in July.
"It's been tough, it's like I'm on the borderline of seeing people in their disease that I used to be in. But I have to know why I'm there. There's no better way for me to remember how low my bottom was than to see someone else at their bottom and offer them a chance out of it."
He said that his experiences as a recovering addict inspired him to do the project. Before MTV approached him about the project, Goldstein said outreach to other drug addicts was already a second vocation for him after deejaying.
"Part of me feels like, 'Who am I?' I'm a DJ. This is my one chance. I owe it as a human who's sober to say something to them. So that's my job. That's what I'm there for," he said.
"I see myself in every single addict that I've done an episode on ... I see a part of me in them. We completely relate to each on how we started, why we started and the fact we cannot stop on our own."
After he survived a fiery plane crash last year that killed four and left him in need of skin grafts, Goldstein told People.com that he had a nurse dispense pain medication.
"In recovery, they say, 'Take what is exactly prescribed and stop when they say to stop.' I do what I'm told," he said.
Rapper Jay-Z recalls how even after the crash, Goldstein stood by his commitment to deejay for him at a concert shortly after the tragic event.

"The accident happened and you know I'm thinking OK we'll get up next year, whenever he gets back on his feet. But he called, 'like man, don't count me out for the concert.' I'm like 'what?' And he came and he had a bandage on his head," he told CNN.
"It was just a small thing, but his passion and love for what he did that's what is always going to stick with me."

E-mail to a friend

All About Entertainment • Celebrity News • MTV Networks Company