By Doug Ganley
CNN





NEW YORK (CNN) -- Jay-Z wants everybody to remember the first responders who answered the call on September 11, 2001.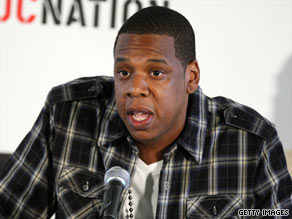 Jay-Z announces his 9/11 concert in New York on Monday. The show will raise money for a benefit fund.
So, this year the hip-hop artist will hold a charity concert at Madison Square Garden in New York on the anniversary of the attacks. He announced the show, named "Answer the Call," at a press conference with government officials Monday morning at the Midtown New York venue.
Standing next to officials, including New York Gov. David Paterson and New York City Fire Commissioner Nicholas Scoppetta, Jay-Z -- born Shawn Carter in Brooklyn, New York -- outlined his plans to donate the proceeds from the concert to the New York Police and Fire Widows' and Children's Benefit Fund.
"This is my chance to help out and do something," he told reporters.
Tickets for the benefit go on sale September 8 and will cost $50. Organizers hope to raise more than $750,000 for the widows' and children's fund, according to information at the press conference.
Jay-Z recalled he was in Los Angeles, California, preparing for an album release, as the 9/11 attacks unfolded in New York. He told reporters that as he watched the aftermath of the attacks from the other coast he "saw the strength of New York and it made me proud."
For this year, the eighth anniversary of the attacks, Jay-Z said he wanted to pitch in.
I want to "do something and help out," he told reporters. His new album, "The Blueprint 3," is also due out September 11.
He told reporters that he will play some of his new material during the show. He's also in the process of lining up special guests, though at this point he doesn't know who will participate.
"It could be one or it could be 10" guest stars, he said.
Regardless, he said audiences should be prepared to listen up -- in more ways than one.
"Bring your earplugs because it's going to get loud," Jay-Z said.
E-mail to a friend

All About Jay-Z