By Stephen Walsh
CNN





(CNN) -- You can't get through a conversation with Jesse Dayton without hearing a reference to Texas at least once.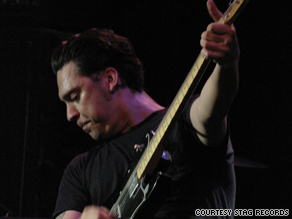 Musician Jesse Dayton has branched out to a new fanbase by collaborating with Rob Zombie.
He wears the name Beaumont, his birthplace, like a badge of honor and he rolls through a set list of stories about his musical collaborations in the Lone Star state with humble pride.
Dayton has earned a hard core following in Texas. But his recent collaborations with rocker-turned-director Rob Zombie have earned him an unexpected fan base -- among horror movie fans.
Most recently, Dayton joined Zombie to record a soundtrack for the movie "Halloween II" as Captain Clegg and the Night Creatures -- a gig that also earned him some time on screen.

Watch Dayton discuss his new project »
Dayton spoke to CNN recently about his career and newfound fan base.
The following is a portion of that interview:
CNN: You have a lot of appreciation for Waylon Jennings.
Dayton: I was actually on a talk show in Nashville [Tennessee] and Waylon was cooking with his wife, Jessi Colter.
They were watching the show I was on because Kris Kristofferson was on. They saw me and called me the next morning and said, "Waylon cut his finger. He wants you to come down here."
So it was a total fluke. Waylon was like my Elvis, especially growing up. My earliest memories were my mom's 8-track in the parlor listening to Willie [Nelson] and Waylon.
CNN: You are not really part of the Nashville music scene. Why?
Dayton: I'm not intentionally staying away from what's going on in Nashville. I'm just being myself.
Texas is like a whole other planet. Bob Wills got kicked off the Grand Ole Opry. Willie Nelson didn't get on the radio until he left Nashville. There's a long history of that.
I don't put down Nashville. They're just doing what they're supposed to do, which is sell as many records as they can. But we've just learned that there's a whole crowd of people out there that love Johnny Cash but aren't into what they're playing on country radio. That's been the crowd we're attracting.
The cool thing we love about having a cult following is that radio and record companies can never take that away from us. It's something we went out and earned one fan at a time.
I love looking out in the crowd and seeing one guy with a cowboy hat on, one guy with long hair from the Rob Zombie camp and maybe some rockabilly kids.
CNN: What is the story behind your collaboration with Rob Zombie in 2005?
Dayton: He said, "Hey man, we're making the ultimate white trash horror movie called 'The Devil's Rejects.' We think your music would be perfect for it" which is kind of a left-handed compliment, I guess.
CNN: Now you're appearing in "Halloween II" and recorded a soundtrack for the movie?
Dayton: It's really fun for me.
We're taking on this whole identity of this band. The record's going to be called "Captain Clegg and the Night Creatures." [Zombie] would call me and say, "Hey, I got this idea for this song called 'Doctor Demon and the Robot Girl' " or [he would ask me to write] a sort of '60s country thing-meets Tom Jones.
CNN: Are you a good actor?

Dayton: Elvis said, "The only thing worse than seeing a bad movie is being in one."
I think the only thing worse than watching a bad actor is being one. I don't take it seriously at all. I'm just a musician who's there for color. If I can show up and be myself and not have to act? Perfect.
E-mail to a friend

All About Country Music • Rob Zombie • Movies