From Amy Engel
CNN





(CNN) -- The name "Vampire Weekend" describes the band perfectly: distinctive and eccentric.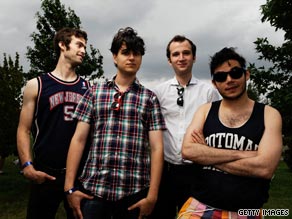 Vampire Weekend has earned a following for its upbeat, surf-laden songs.
Made up of four guys who attended Columbia University, the band's sound is distinguishable from other bands competing for attention in the indie pop arena with its percussive use of drums, shakers and guitars, as well as upbeat, surf-inflected melodies.
The group -- Ezra Koenig, Rostam Batmanglij, Chris Tomson and Chris Baio -- earned generally favorable reviews for its first, self-titled CD release in 2008, which landed on many year-end best-of lists. Among its songs: "Cape Cod Kwassa Kwassa" and "A-Punk."
The band is working on a new album, scheduled out early 2010.
And what about that name? It comes from a film Koenig was making in his backyard, which was in turn inspired by the 1987 film "The Lost Boys." In Koenig's version, a character had to go to Cape Cod and fight vampires on the way there.

Watch Koenig talk about the source of "Vampire Weekend" »
The band was originally going to be called simply "Weekend," but opted for the slightly longer version. "It feels right," Koenig said.
So does their sound, though it's not likely to earn them any No. 1 singles in the current musical environment.

"Ultimately we wanted to make music we listen to, and like most people we listen to a lot of music outside of rock and roll," Koenig said.
The members talked to CNN about the band's origins, the forthcoming album and maintaining Facebook accounts.
E-mail to a friend