By Denise Quan
CNN





SANTA MONICA, California (CNN) -- When we set out to produce a series of Woodstock 40th-anniversary pieces, somebody asked, "Whatever happened to Grace Slick?"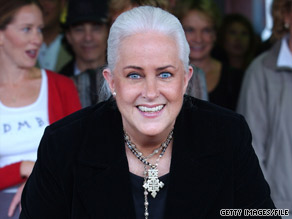 Grace Slick, seen here being inducted into L.A.'s Rockwalk in 2002, is now devoted to painting.
We're happy to inform you that the former Jefferson Airplane singer is alive, well, and a visual artist based in Malibu, California. (She retired from music 20 years ago.) Although she'll turn 70 in October, she's colorful, candid and as opinionated as ever.
Her bright blue eyes are unflinching -- the same eyes that fascinated a generation of male fans in the late '60s and '70s. Only now, her hair is pure white, tied in a long ponytail streaming down her back.
We met up with the Rock and Roll Hall of Famer at Gallery 319 in Santa Monica, California, which features a number of her paintings. (You can see examples of her work at AreaArts.com.) Unlike her words -- which can be acerbic, as well as amusing -- some of her art has a naive playfulness to it. There's a gentle-looking Jerry Garcia. Janis Joplin's face beams beneath a crown of flowers. A large painting called "Woodstock" is bright and cartoon-like -- almost like an illustration out of a children's book.

Watch Grace Slick show off her paintings »
Then there's her fascination with Alice in Wonderland and the White Rabbit, both of whom were referenced in the lyrics of Jefferson Airplane's psychedelic hit from 1967, "White Rabbit." The White Rabbit signifies curiosity, she told us.
"Following your curiosity is a good idea, because you don't want to be sitting around at my age going, 'Gee, I was too scared to go for it,' " she told us.
The following is an edited version of the interview.
CNN: I can't believe you're out there saying, "I'll be 70 in two months." A lot of women don't tell their age.
Grace Slick: Well, what do you want me to say? I'm 55? "Wow, she looks terrible for 55!" (laughs)
CNN: One of your paintings has become kind of signature for you. It's called "Woodstock," and it's your take on what happened in 1969.
Slick: Woodstock -- I didn't see anybody play, except when I was standing backstage waiting to go on, because it was so muddy. And the weather was so horrible, you literally couldn't get there except by helicopter. So the artists stayed in the motel, and half an hour before you went on, a helicopter would come pick you up, take you to the back of the stage. You'd play, then the helicopter would take you back to the hotel. It wasn't that much fun, as far as I can tell.
Woodstock is well known because this country is so hyped on amount. It was big. Half a million people doesn't necessarily mean something is good. It just means it's big.
CNN: Can you point out some of the people in your Woodstock painting?
Slick: That's all the Dead, Janis, Richie Havens, Crosby, Stills, Nash and Young, Joan Baez ... I even got screwy. Here's Moses, and Buddha, and Mohammed and Jesus. And that is Barack Obama (she points to a young boy playing basketball in the middle of the crowd at Woodstock). That was the age he would've been at that point. Now he wasn't there, but I like him, so I put him in there.
CNN: What kinds of things did the artists talk about backstage?
Slick: What we talked about backstage was probably moronic, because everybody was loaded. I'm not saying that to be funny. That was true! We were dropped off to go on stage at 9 [p.m.]. We didn't go on stage until 6 o'clock the next morning. So we were all on that platform all night.
We had lots of cocaine, and alcohol, and marijuana, and whatever else was going around -- and that's the '60s. And that is not necessarily a good idea. It's not necessarily a bad idea. It just is. This country is talking about having problems with money. If you legalized marijuana and taxed it, you could take care of a whole bunch of business. And alcohol's legal!
I am what is called a nonpracticing alcoholic, which means I don't drink, but I'm still an alcoholic. But if I hadn't had alcohol, I wouldn't ever have gotten up on stage and leapt around like that. ...
I don't know why I'm still here. It amazes everybody. People are turning this thing on (indicates the TV) saying, "Who is this?" "Well, that's Grace Slick." "She's still alive?!" (laughs)
CNN: Is it odd to you that you're still alive?
Slick: Yes, it is! It's stunning!
CNN: Especially when you had friends die at a very young age.
Slick: Yeah. And I was so stupid that -- [one of the guys] in Jefferson Airplane -- when Janis died, he stopped using drugs. But I was so dumb that every time somebody died, I thought, "That's them, not me" -- because I always thought it was heroin. Well, I'm sorry, but you can run into a wall -- which I did -- with alcohol at 80 miles an hour. I'm amazed I walked out of that one.
CNN: You have a fondness for painting Alice in Wonderland. Do you see yourself as Alice?
Slick: Yeah, because I came out of the '50s. Alice came out of Victorian times, which were very rigid -- and she went down to Wonderland, down the rabbit hole, and I went into the '60s.
CNN: If you wanted to buy a Grace Slick painting, how much would it set you back?
Slick: If it's huge and it's original, you're probably going to go $30,000. If it's smaller, it's less because it takes less time.
Now, I can't go around charging a whole bunch of money when people don't have the money to pay that, and it's not an item you need -- like food. So I've got to get real and bring the prices down, which we have.
CNN: Who are you listening to these days?
Slick: I like Daughtry, I like Nickelback, I like Dave Matthews. I like Beyoncé -- she's a really good entertainer.
CNN: When are we going to get you back on stage?
Slick: I don't want to see old people doing rap or rock and roll. It makes me cringe.

CNN: Do you still sing?
Slick: I sing around the house, or I sing at the top of my lungs in a car. People go by -- there's this old lady singing at the top of her lungs with the radio up to about 130 decibels, smoking cigarettes and drinking coffee. The only thing I don't do [while driving] is text. But yeah, I have a good time.
E-mail to a friend