From Deborah Brunswick
CNN





(CNN) -- How does it feel? To be on your own? A complete unknown? Bob Dylan might know.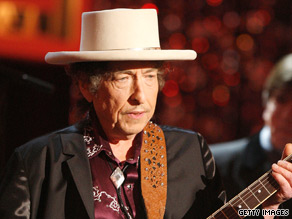 A police officer questioning Bob Dylan recognized his name but wasn't sure it was him.
The rock legend was stopped in July by police in Long Branch, New Jersey, who were responding to a call about a suspicious person roaming the neighborhood, police said.
According to Long Branch Police Department Sgt. Michael Ahart, Dylan had been peering into a window of a house that was for sale, which prompted a neighbor to call the police on July 23.
One of two responding officers, Officer Kristie Buble, 24, approached Dylan and asked him for his name.
"She recognized the name, she just really didn't believe it was Bob Dylan," Ahart told CNN. "He was soaking wet because it was raining and he was wearing a hood."
So Buble asked the musician for identification, but he had none.
Buble and her partner, Officer Derrick Meyers, 24, then asked Dylan, 68, to accompany them to where his tour buses were parked. Once they arrived, Dylan showed them identification.
"Dylan was really cool about the whole incident," Ahart said. He said he asked the singer why he had been walking in the rain and was told, "I just felt like going for a walk."
Dylan, who is on a national tour with musicians Willie Nelson and John Mellencamp, was in Long Branch on the Jersey shore prior to his performance at a baseball stadium in nearby Lakewood.
E-mail to a friend

All About Bob Dylan