By Alan Duke
CNN





LOS ANGELES, California (CNN) -- Michael Jackson had "some very unusual problems" that Dr. Conrad Murray did not know about when he was hired as Jackson's personal physician as the singer prepared for comeback concerts, Murray's lawyer says.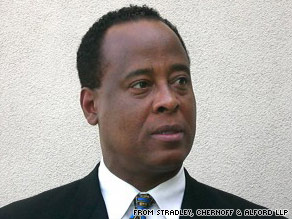 Dr. Conrad Murray, Jackson's personal physician, has had his home and office searched.
In comments published in the Los Angeles Times and confirmed Thursday by his spokeswoman, attorney Ed Chernoff said his client did not know which drugs Jackson might have been taking or whether he was addicted.
"When he accepted the job, he was not aware of any specific requirements regarding medications that Michael Jackson was taking or any addictions that he was suffering from," Chernoff told the Times.
In a quote confirmed by his spokesman, Chernoff said that it was only after Murray moved to Los Angeles in May that "he realized that Michael Jackson had some very unusual problems."
Murray did not conduct drug tests on Jackson and had no way of knowing, other than from Jackson himself, whether he was taking other drugs, Chernoff's spokeswoman, Miranda Sevcik, told CNN.
Investigators, trying to determine whether anyone should be charged in Jackson's death, have searched Murray's home and two clinics for evidence of drugs he may have given the singer.
One search warrant implied that police suspect Jackson was a drug addict. It said there was "probable cause to believe" that the searches would uncover evidence of excessive prescribing, prescribing to an addict, prescribing to or treating an addict and manslaughter.
It also cited "probable cause to believe" that the premises contained "records, shipping orders, distribution lists, use records relating to the purchase, transfer ordering, delivery and storage of propofol (Diprivan)."
Don't Miss
Chernoff told the newspaper that he thought investigators expected to find evidence that Murray prescribed drugs other than the anesthetic propofol to Jackson.
"I have no doubt they came up completely empty in that regard," he said.
A source with knowledge of the investigation told CNN that Murray gave propofol, commonly known by the brand name Diprivan, to Jackson in the 24 hours before he died.
Chernoff has refused to confirm or deny whether Murray administered propofol to Jackson, although he denied "unequivocally" that Murray gave Jackson painkillers.
The Los Angeles County coroner's office said Monday that it has completed a "thorough and comprehensive" report into what killed Jackson, but police have requested that the report not yet be released because of the ongoing investigation.
A former prosecutor who has also defended doctors in medical malpractice cases involving anesthesia said prosecutors would face "a very, very severe uphill battle" when charging a doctor with manslaughter.
"You have to prove gross recklessness in the prescription of drugs," Paul Callan told CNN Wednesday. "That's really hard with a doctor, because doctors are always prescribing drugs; patients occasionally die from them. That's not criminal conduct. But here, you have to show that this doctor should've known Jackson was an addict and that he could've died from these drugs."
In addition to the local inquiry , federal drug investigators have focused on Murray, according to a law enforcement official.
DEA agents have accompanied Los Angeles detectives during the searches of Murray's Houston, Texas, clinic and his home and clinic in Las Vegas, Nevada.
E-mail to a friend

All About Los Angeles Police Department • Michael Jackson • Conrad Murray