(CNN) -- Beastie Boy Adam "MCA" Yauch is recovering from surgery to treat a tumor and gearing up for radiation treatments, according to an e-mail he sent to his fans.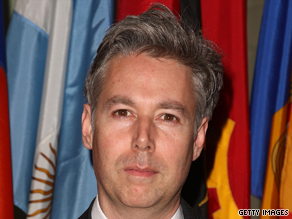 Beastie Boy Adam "MCA" Yauch said he is doing well after cancer surgery.
Yauch recently sent the e-mail with the subject line "What I did over my summer vacation" after having revealed in July that he had a cancerous tumor in a salivary gland.
"So I'm about a week and a half out of surgery now and rapidly recovering from it," the e-mail said. "I haven't taken any of the pain meds, which supposedly speeds along the healing process, or should I say, taking them slows it down."
The rapper said he was faring well, other than a stiff neck and jaw, and went on to say he expected to start seven weeks of radiation treatments soon.
The cancer was in his left parotid gland and "also in a lymph node right in that area," he said last month in a video statement.
In the e-mail, Yauch thanked everyone "who sent positive thoughts my way" and gave a thumbs-up to the recent Jay-Z and Coldplay cover performances of "No Sleep Till Brooklyn" and "(You Gotta) Fight For Your Right (to Party)" at the 2009 All Points West Music and Arts Festival held in New Jersey, which Yauch said he saw via YouTube.
Jay-Z replaced the Beastie Boys as headliners of the festival.
"And I heard Karen O [of the group Yeah Yeah Yeahs] wore a 'Get well MCA' armband, and that [rapper] Q-Tip gave a shout out too ... very kind of them," Yauch's e-mail said.
Yauch's illness caused the cancellation of upcoming Beastie Boys concerts and will delay the release of the band's next album, "Hot Sauce Committee Part 1."
E-mail to a friend

All About The Beastie Boys • Jay-Z • Hip-Hop and Rap