By Alan Duke
CNN





LOS ANGELES, California (CNN) -- Michael Jackson's father told CNN's Larry King Monday night that he never beat his son or made any mistakes in raising him.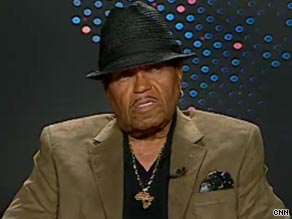 Joe Jackson told CNN's Larry King he suspected foul play was involved in his son's death last month.
Joe Jackson also said the rumor that he wanted to take the singer's children on tour as the Jackson 3 was "a bunch of jive."
Jackson repeated his suspicion that foul play was involved in his son's death last month, but he conceded he did not know what happened. He said he had been blocked from seeing or talking to his son in the days before his death.
There were indications in the interview with Jackson, who was in Las Vegas, that he was not being included in all of the family's activities in recent weeks.
When King asked about the findings of the private autopsy -- which daughter LaToya Jackson last week said she's seen -- Joe Jackson answered "Well, they have not showed it to me, Larry. I'll put it like that."
He also said he did not know where his son's body has been kept since the memorial service.
"You'd have to ask somebody that knows," he said. "I don't know."
Jackson denied that he was legally separated from Katherine Jackson -- his wife of 60 years -- although he did say he spends most of his time in Las Vegas. His wife lives in the family home in Encino, California.
He denied a report that he had agreed to sign a document saying he would not be involved in helping raise Michael Jackson's three children as a way to help his wife retain custody of them.
"I've never said I was going to sign any papers to that effect," he said.
Debbie Rowe, Michael Jackson's ex-wife and mother of his two oldest children, has not said yet whether she will challenge Katherine Jackson for custody.
Joe Jackson appeared careful to avoid any hints that he might encourage the children to enter show business, saying "they have to be what they are, kids, at the moment."
"I can't get into that right now, Larry, because, I mean, I just can't," he said.
Don't Miss
King asked him to respond to a media report quoting an unnamed family source that said Joe Jackson, who turned his sons into the Jackson 5, had approached Michael Jackson's children about touring next year as the Jackson 3.
"Not true. That's a bunch of jive. That's a bunch of -- I wish I could say what I should say. That's a bunch of bull."
Asked about stories that he was abusive to his son as a child, Jackson said "Oh, that's a bunch of bull S. That's a bunch of bull S."
"You never physically harmed him?" King asked.
"Never. Never have. And I -- and I raised him just like you would raise your kids, you know? But harm Michael, for what? I have no reason. That's my son. I loved him and I still love him," Jackson said.

Watch Joe Jackson deny abusing Michael »
He said he made no mistakes in raising his children.
"Michael was raised properly," he said. "He didn't run the streets like most of those other kids that was in his neighborhood."
While denying any child abuse, Joe Jackson's explanation did leave the question of spanking:
"The media keep hollering about saying that I beat Michael. That's not true. You know what this beat started -- beat started in the slavery days. Where they used to beat the slaves and then they used to torture them. That's where this beating started. These slave masters, and that's where that come from. But, hey, there's a lot of people in America, Larry, a lot of people in America spank their kids, you know? They say they don't, they're lying. They're lying. Now, Michael was never beaten by me, I've never beaten at all."
Joe Jackson said he was not surprised or hurt to learn Michael left him out of his will.
"That's the way he wanted it," he said. "And it's not going to hurt me that I was left out of his will. But it happened."
The will, written in 2002, places all of Jackson's assets into a family trust that benefits his mother, the three children and various charities.
Joe Jackson showed frustration at being cut out of his son's life in his last days.
"Larry, I'm going to cut through the chase on this. I could never get to him. I tried all I could and I could never get to him because he -- I was barred away from him by securities and all that type of thing. I could not get to him," he said.
He then repeated his suspicion that foul play was involved in his son's death.
"If a doctor's there that couldn't bring you back -- and this doctor, he ran away. They had to look for him three days to find him. So what do you think there that's happened? To me, that's foul play."

Dr. Conrad Murray, who had been hired to attend to Jackson, was with the singer when he died on June 25. There were reports initially that Murray had disappeared after his unsuccessful efforts to resuscitate Jackson. His lawyer denied he was ever in hiding.
The Los Angeles County Coroner's office has not concluded if foul play was involved in the singer's death. A spokesman for the coroner said the results should be made public in the next two weeks.
E-mail to a friend

All About Michael Jackson • Los Angeles County Department of Coroner