(CNN) -- Madonna was "devastated" to hear that a man was killed in an accident during construction for her upcoming concerts in Marseilles, France, a representative said Thursday.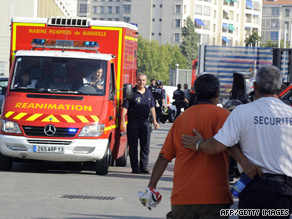 Firefighters leave the Stade Velodrome stadium in Marseille after the accident on Thursday.
A 53-year-old French man was killed when a stage being built for the concert collapsed, a fire department spokesman in the southern French city said.
Another two people, one British and one American, are severely injured, and four are lightly injured, officer David Goddin told CNN.
"At this point we don't know how it happened, but we are confident no one else is still under the rubble," Goddin said.
"My prayers go out to those who were injured and their families along with my deepest sympathy to all those affected by this heartbreaking news," Madonna said in a statement issued by her representative, Liz Rosenberg.
At least one Madonna show has been canceled, Rosenberg told CNN.
A crane collapsed while lifting a large metallic truss into place, Lt. Thierry Delorme of the French Navy told CNN. In Marseille, the Fire Department is a part of the Navy.
An investigation has been launched into the cause of the collapse, he said.
In addition to the six injuries and the single fatality, 34 people received psychological support after the incident, he said.
About 27 fire engines and 80 firefighters responded to the emergency when the stage collapsed at 5:15 p.m. (1515 GMT).
"There were a lot of open fractures, of injuries, it was a messy sight," one of the rescue workers told Agence-France Presse.
Madonna was scheduled to play the first of five concerts for her "Sticky and Sweet" tour at the 60,000-seat Stade Velodrome on Sunday.
The singer was in Udine, Italy, when she heard the news, Rosenberg said.
E-mail to a friend

CNN's Per Nyberg in London, England, contributed to this report.