LONDON, England (CNN) -- Madame Tussauds unveiled a wax figure of Michael Jackson on Thursday, showing the late entertainer in a pose from the concerts he had planned to hold this month.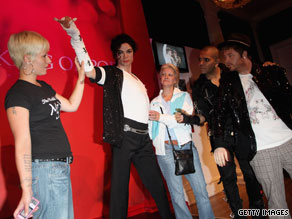 The new waxwork of Michael Jackson -- only Queen Elizabeth II has been portrayed more times by Madame Tussauds.
Sculptors at the wax museum started working on the figure four months ago. They had intended to display it this month, to coincide with the start of Jackson's "This is It" comeback tour in London.
The new figure is modeled on a Jackson pose from the concert poster, the museum said. It shows him "arms outstretched, pelvis thrusting and tip-toed, with his trademark trilby angled forward," the museum said.
It is the 13th Jackson waxwork by Madame Tussauds, the museum said. Only Britain's Queen Elizabeth II -- who has been on the throne for almost 60 years -- has been portrayed more often.
Don't Miss
"It is extremely unusual for a personality to have been portrayed so many times," said Madame Tussauds spokeswoman Liz Edwards.
"But Michael Jackson was totally unique and his iconic status made him one of the most popular stars here."

The London museum has two other Jackson waxworks -- one in a pose from "Thriller" and another from his "Dangerous" album. The other 10 Jackson waxworks are in other Madame Tussauds museums around the world.
The museum said it decided to proceed with the figure after Jackson's death last month "as a tribute to one of the greatest musicians of all time and to celebrate his amazing 40-year career."
E-mail to a friend

All About Michael Jackson • Billboard.com