By Alan Duke and Saeed Ahmed
CNN





LOS ANGELES, California (CNN) -- The odds of winning Saturday's lottery for 17,500 free tickets to Michael Jackson memorial may be long, judging from traffic to the Staples Center Web site Friday.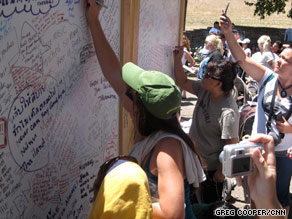 Michael Jackson fans sign a condolence board outside Neverland Ranch in Los Olivos, California.
Web servers counted a half-billion "hits" in the first 90 minutes the lottery registration site was online, a Jackson family spokesman said. One visitor can generate many "hits" by repeated attempts, and scalpers use a variety of methods to generate multiple "hits" in order to get as many tickets to an event as possible.
People who do not have a ticket should stay away and watch the event on television, a Los Angeles police official said.
The Los Angeles city government will provide security for the event, despite a budget crisis, said Los Angeles Councilwoman Jan Perry, who is acting mayor while Mayor Antonio Villaraigosa is out of the country.
But Perry, hoping to keep a crush of fans away from downtown Los Angeles, told them that without a ticket "your very best option" to see the memorial is on TV.
"I want to stress to those people who are coming, or are thinking about coming, to the city for this special event, that you might want to consider watching this from the comfort of your home," Perry said.
Los Angeles Assistant Police Chief Earl Paysinger said the area near the Staples Center will be closed to all those without a ticket or media credentials.
MICHAEL JACKSON The Memorial
Tuesday, join CNN for all day coverage as the world celebrates the life of a worldwide pop icon, and don't miss our prime time coverage starting at 8 ET.


Ticketholders will also have wristbands to match their tickets, a precaution against people "trying to take advantage" of the system, AEG Live President Tim Leiweke said.
A computer will randomly select 8,750 names from those who register online at StaplesCenter.com by Saturday at 6 p.m. PT to each get a pair of tickets for the memorial. While 11,000 seats are available for fans inside the Staples Center, another 6,000 can watch from the Nokia Theater, which is across the street, according to Leiweke.
AEG Live, the promoter of Michael Jackson's London, England, shows, owns and operates both venues.

Watch Jackson dance in rehearsal »
Winners will get an e-mail from AEG Live on Sunday telling them to contact Ticketmaster for information on how to claim their tickets, he said. Tickets will be handed out Monday at locations away from the Staples Center, he said.
Jackson family spokesman Ken Sunshine said the computer servers hosting the registration site counted 500 million "hits" -- 120,000 a second -- in the first 90 minutes on Friday.
The servers appeared to be slow but responsive Friday despite the heavy traffic. Additional servers were brought online to handle the workload, Sunshine said.
Sunshine said no details would be released Friday about what fans will see at the memorial, set to begin at 10 a.m.
"It's still being developed," Sunshine said.
CNN has learned that Ken Ehrlich, known for producing the Grammy Awards, is producing the memorial show. Ehrlich's production company, which was bought by AEG Live in 2006, confirmed he was the producer.
The family decided to provide a free live video feed to networks so it would be televised everywhere.
"Everything about the memorial has to do with accommodating as many fans as possible," Sunshine said.
Leiweke said there would be no funeral procession to the arena, indicating Jackson's body would not be brought to the public memorial.
Because the family has not said where and when a private memorial and burial for Jackson would be held, journalists have staked out possible locations.
A long line of TV satellite trucks and their crews have been parked outside the Hollywood Hills Forest Lawn Cemetery for several days in case it was chosen by the family. Cemetery officials have not commented on whether Jackson is to be buried there.
The gates of the Neverland Ranch, where Jermaine Jackson said he would like to see his brother laid to rest, will be closed to the media Friday evening until after Tuesday, said a spokeswoman for the investors who now own it. TV crews have been given tours and allowed to conduct interviews there in recent days.

Watch Jermaine Jackson discuss brother's life, death »
Still, fans milled about, blasting Michael Jackson's songs from boom boxes and car speakers while some set up booths to sell commemorative T-shirts.
Drug allegations swirl
Also Thursday, a Los Angeles law enforcement source told The Associated Press that investigators found Diprivan, a powerful sedative, in Jackson's home.
A nutritionist, Cherilyn Lee, said earlier in the week that Jackson pleaded for the drug despite being told of its harmful effects.
Doctors say the drug, whose generic name is Propofol, can lead to cardiac arrest when the heart abruptly stops.
Jackson traveled with what amounted to a mini-clinic, complete with an IV pole and an anesthesiologist who medicated the insomniac singer during his HIStory tour in the mid-'90s, sources close to Jackson told CNN Thursday.
The information sheds new light on perhaps the central unanswered question in Jackson's death: Were prescription drugs involved?
On Thursday, the California attorney general's office said it is helping the Los Angeles Police Department in the death investigation.
The U.S. Drug Enforcement Administration is also looking into the role of drugs, two federal law enforcement sources said a day earlier.
Authorities do not know what killed Jackson and await toxicology results, which are due back in two to three weeks, the Los Angeles County coroner said Thursday.
Whether or not drugs played a role in the singer's death, the accounts of the sources who spoke to CNN's Dr. Sanjay Gupta show that Jackson was -- at least in the past -- routinely administered potent drugs to help him sleep.
Speculation about the role of drugs has been swirling since Jackson died on June 25, and the sources who spoke with Gupta about the HIStory tour seemed to fuel the fire.
The anesthesiologist who accompanied Jackson during the 82-date world tour in 1996 and 1997 was Dr. Neil Ratner, the sources said.
They said Ratner would keep medical equipment in his hotel room, which he used to monitor Jackson's vital signs when the singer was asleep or "under," as one source put it.

Watch CNN's Dr. Gupta ask Dr. Ratner about his involvement with Michael Jackson »
The doctor apparently said Jackson had trouble sleeping and that Ratner helped "take him down" and "bring him back up," according to the source.
Ratner confirmed to CNN that Jackson suffered from a sleep disorder, but refused to address any of the other allegations.

"It's really something I don't want to talk about right now," he said outside his Woodstock, New York, home Thursday.
Ratner was stripped of his license to practice medicine for three years in 2002 after he was found guilty of insurance fraud.
E-mail to a friend

CNN's Jeff King, Denise Quan and Drew Griffin in Los Angeles, and Danielle Dellorto in Atlanta, Georgia, contributed to this repot.
All About Michael Jackson • Neverland Ranch • Jermaine Jackson