By Lisa Respers France
CNN





(CNN) -- On Friday morning, fans of Michael Jackson reached out to grab one of the largest parts of his legacy: his music.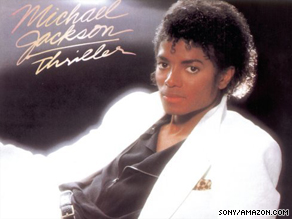 Fans have flocked online to buy music by Michael Jackson, including the album "Thriller."
Seven out of the top 10 albums on iTunes belonged to Jackson: "The Essential Michael Jackson," "Thriller," "Number Ones," "Off The Wall," "Thriller (25th Anniversary Edition)," "Bad" and "Michael Jackson: the Ultimate Collection."
The singles "Man in the Mirror" and "Thriller" were both listed in the top 10 iTunes singles.
At Amazon.com, the top 15 bestsellers in music belonged to Jackson, and fans were invited to share their favorite Michael Jackson memories.
There was a tremendous outpouring of grief and admiration for the singer who many felt was, like the title of one of his hits, gone too soon. Jackson, 50, died Thursday after suffering cardiac arrest.
Mary Ann Nietz wrote, "I grew up with Michael Jackson, and I will never forget the incredible artist he was. He will live on in our hearts as the greatest pop star of all times."
Gwendolyn V. Schilling wrote on the site that "Michael Jackson will never be forgotten, he'll always be loved by all of us loyal fans."
Don't Miss
As a companion to his music, Jackson was also known for ground-breaking music videos and performances.
On Friday, the five top-selling DVDs on Amazon.com were also related to Jackson: "Michael Jackson - Video Greatest Hits - HIStory"; "Michael Jackson - History on Film, Vol. 2"; "Michael Jackson: Live in Bucharest: The Dangerous Tour"; "Michael Jackson - Dangerous: The Short Films"; and "Number Ones."
Jackson was viewed by many as the consummate artist, having found success in the music industry while still a child as part of a group with his brothers, the Jackson 5.
He first established himself as a successful solo artist in 1979 with the release of his album "Off the Wall," which went on to sell more than 7 million copies.
In 1982, he was elevated into superstar status after the release of "Thriller," which became the best-selling album of all time. Seven of nine original singles from the album became top 10 singles, the album was certified 20 times platinum, and it earned 11 Grammy nominations.
Later albums like "Bad" and "Dangerous" also enjoyed some success, though not as much as "Thriller." His 1995 release, "HIStory" -- a best-of collection with a few new cuts -- fell short in sales and is considered to be one of his least embraced albums.
E-mail to a friend

All About Michael Jackson • Music • Amazon.com Inc.