By Jason Morris
CNN





MANCHESTER, Tennessee (CNN) -- Even though Brooklyn's TV on the Radio formed in 2001, the group really started to break out just last year.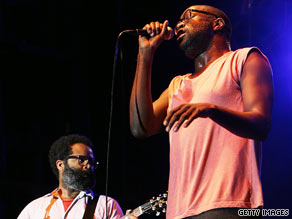 TV on the Radio's Kyp Malone and Tunde Adebimpe break down genres with their music.
Proof of the band's rise was its presence on just about every late-night TV show -- if not the radio -- including "The Late Show with David Letterman," "The Colbert Report" and "Saturday Night Live." Their highly acclaimed third album, "Dear Science," made countless 2008 "best of" lists.
The group likes to stay current -- and talk about current things, not themselves.
When we caught up with vocalist Tunde Adebimpe and guitarist Kyp Malone backstage at the Bonnaroo music festival, they requested that we not ask them anything out of their biography. Also, Animal Collective was blaring from one of the main stages, and Adebimpe begged us to keep it short so he could go check them out.

Watch TV on the Radio perform »
CNN talked with Adebimpe and Malone about erasing the lines between genres and the technology of the band.
CNN: You guys have a gumbo of influences: You're rock, hip-hop, world music. ... Describe to us: What you are?
Tunde Adebimpe: It's just music, that's the safest thing to say about it, is that it's just music. (laughs)
Kyp Malone: There's no lines. As far as I can tell, all the lines that have existed -- genres that music is being sold under -- are artificial lines that were created in order to classify, to sell music to specific demographic groups.
Adebimpe: Yeah.
Malone: The lines that existed before were like oceans and mountain ranges, and then you could say that it's this type of music or that type of music, because it's stuck in a locale.
Adebimpe: Yeah, like Appalachian.
Malone: But now that there is globalism and the Internet and everybody is listening to everyone else, there's no lines. And there is enough commonality in all the world's music that there's no reason why you can't hear and draw from and be influenced by anything that is being made anywhere that is good.
CNN: What specific technology do you guys use to help create your unique sound?
Adebimpe: We have a very traditional rock setup with guitars, bass, keyboard, drums and then samplers and loop pedals. Just kind of whatever works.
CNN: Have you ever tried to watch TV on the radio?
Adebimpe: I don't know what that is

Malone: I remember when I was a kid, hearing transmissions from the television being picked up on the radio.
Adebimpe: It's not much to look at. It's more of a noise. (laughs)
E-mail to a friend

All About Bonnaroo Music & Arts Festival • Hip-Hop and Rap • Music