By Alan Duke
CNN





LOS ANGELES, California (CNN) -- Singer Rihanna's expected testimony at singer Chris Brown's preliminary hearing on assault charges will not be televised, a court spokesman said.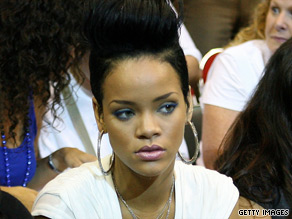 Rihanna has cleared her schedule so she could be in court if prosecutors call her as a witness.
Prosecutors are expected to call Rihanna, 22, as a witness Monday afternoon as they make their case that Brown attacked her, said Los Angeles Superior Court spokesman Alan Parachini.
Brown, 20, faces two felony counts of assault and making criminal threats stemming from an early morning incident on a Hollywood street in February.
If he reaches a plea agreement, Monday's hearing would be unnecessary. His lawyer, Mark Geragos, previously indicated he hoped to resolve the case without public testimony.
Los Angeles Criminal Court Judge Patricia Schnegg decided against allowing cameras into the courtroom during Rihanna's testimony, Parachini said Thursday.
Rihanna -- whose full name is Robyn Rihanna Fenty -- cleared her schedule so she could be in court if prosecutors call her as a witness, her lawyer, Donald Etra, said last month. Prosecutors told him they would call her, Etra said.
"She will definitely comply with the subpoena and any court order," he said.
Defense efforts to delay the hearing failed when the California Supreme Court decided Wednesday to deny a motion by Geragos to give him more time to look into a leak of police photos showing Rihanna's bruised and bloodied face.
Don't Miss
Schnegg ruled earlier that the leak is not relevant to the case against Brown. The judge said, however, she might change her mind before a trial.
Brown, who issued a public apology for the incident in February, recorded a short video posted on YouTube last month in which he said, "I ain't a monster."
He entered "not guilty" pleas in an earlier court appearance.
If Brown is convicted on the two counts, he could be sentenced to anywhere from probation to four years and eight months in prison, the Los Angeles County District Attorney's Office has said.
The alleged attack happened in February during an argument that began when Rihanna, who had been dating Brown, found a text message from another woman on his cell phone, according to a sworn police statement.
It is unclear whether Brown and Rihanna are still in a relationship.
E-mail to a friend

CNN's Jennifer Wolfe contributed to this report.
All About Chris Brown • Rihanna