By John Lorinc
CNN





(CNN) -- In compiling a new George Harrison greatest-hits collection, the idea was to focus on the flow, his widow, Olivia, told CNNRadio Monday.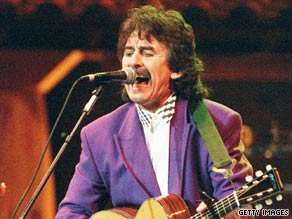 George Harrison, shown here in 1992, had hits with "My Sweet Lord" and "All Those Years Ago," among others.
"It's a collection that spans his career, and we put them together in a way we thought they would just kind of flow, you know, musically, into one another," she said of "Let It Roll: Songs by George Harrison," out Tuesday. "But, it's all George, you know."
In 1970, the Beatles broke up. Harrison burst out of the palace with "All Things Must Pass," a monster three-record set that featured friends like Eric Clapton, Leon Russell and former bandmate Ringo Starr. Critics and fans agree the album is among the best solo offerings from a former Fab.
Although five cuts from "All Things" got the nod on this package -- the title track, "Isn't it a Pity," "What is Life," "The Ballad of Sir Frankie Crisp" and, of course, "My Sweet Lord" -- this look back displays Harrison's solo work throughout his career.
The 19-cut CD extends all the way through "Brainwashed," his final album, featuring that album's chirpy "Any Road" and the hypnotic instrumental "Marwa Blues."
The Beatles are present too. Three live Harrison songs from "The Concert for Bangladesh" -- "While My Guitar Gently Weeps," "Something" and "Here Comes the Sun" -- sound as good today as they did on that August date in 1971 at Madison Square Garden.
And, of course, his bouncy, tongue-in-cheek "When We Was Fab," from his 1987 release "Cloud Nine," shows Harrison looking back without anger.
"I think that there is an underlying thread that he always expressed, always a bit of humor, always a bit of longing," said Olivia Harrison. "You know, I don't like to overuse the word spirituality, but, you know, he was interested in things not of this world."
Harrison is a two-time inductee of the Rock and Roll Hall of Fame, once as a Beatle and once as a solo artist.
E-mail to a friend