By Alan Duke
CNN





LOS ANGELES, California (CNN) -- Live Nation has taken all fees and taxes out of "No Service Fee Wednesday," responding to complaints that hidden fees remained when it launched the ticket promotion two weeks ago.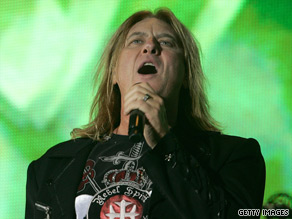 Fans can skip the fees on tickets to see Joe Elliott and the rest of Def Leppard, one of the bands in the promotion.
All amphitheater lawn seats -- except for Dave Matthews Band shows -- will be $24.99 for 24 hours beginning at 12:01 a.m. Wednesday.
Dave Matthews Band lawn seats will be deeply discounted, but at a $34.99 flat rate, according to a Live Nation spokesman.
The promotion could save concertgoers more than $20 per ticket, an improvement over the initial "No Service Fee Wednesday," which still included some extra charges such as a $6 per-ticket parking fee.
Service fees tacked on to ticket purchases, averaging a third of the base price, have long been a source of grumbling from concertgoers.
Live Nation noticed when ticket buyers posted complaints on online blogs and message boards, said Jason Garner, Live Nation CEO for Global Music.
"We're learning as we go," Garner said. "It's easy to dismiss the blogs, or to not look at them, but that is one of the great areas to learn what is on people's minds."
Don't Miss
Cutting all fees "took some time and a lot of conversations," Garner said. Promoters, venue owners, artists, ticket distributors and the government all demand a cut of ticket revenues.
"Anytime that you redo ticket prices, that takes the artist's involvement," Garner said. "Artists set the prices and we worked with them."
The Dave Matthews Band, which is known for it's fan-friendly policies, was the last group to join the promotion, announcing late Monday that they had agreed to a $34.99 flat ticket price.
"Tickets for Dave Matthews Band's shows have always been a great value," a band spokeswoman said. "Out of respect for its loyal fans, the band has consistently made every effort to keep tickets affordable."
This will mean a $17.36 saving for fans who buy tickets Wednesday for Friday's Dave Matthews Band show on the lawn at the Post-Gazette Pavilion in Burgettstown, Pennsylvania. Any other day, the seat would cost $40 and a $12.35 service fee would have been added.
The discount is even better for fans of other bands. For example, the $24.99 cost for a lawn seat at the Verizon Wireless Amphitheater in Irvine, California, for the August 30 Def Leppard concert is $22.61 cheaper on Wednesday.
Lawn seats at amphitheaters are popular for music fans on a tight budget, although there is no guarantee of a place to sit or a view of the stage. Everyone competes for the best piece of grass to place a blanket or portable chair.
It's too early to tell if the summer "no service fee" promotions will stimulate overall ticket sales, or if fans will just shift the day they buy, Garner said.
The company saw a 500 percent increase in ticket sales the past two Wednesdays -- including last week when all seats were discounted, he said. Sales on the other days of the week have held steady, he said.
Live Nation began selling tickets to its own concerts last year, just months before announcing plans to merge with Ticketmaster -- the world's largest ticket-seller. Before that, Live Nation promoted shows but had no infrastructure to sell tickets, and it contracted out to Ticketmaster or others to sell them.
The Ticketmaster-Live Nation merger plan has drawn criticism. The Justice Department launched an investigation of the proposed merger in February.
Neither Live Nation nor Ticketmaster executives would respond to questions about the merger. However, Ticketmaster CEO Irving Azoff did talk about it before a U.S. Senate subcommittee earlier this year.
"[The merger] will give us greater flexibility in how we promote, market and sell tickets to events. It will give us a pathway to alternative pricing and fee structures. And we will be better able to develop new and innovative products and services that enhance the fan experience and make all forms of entertainment more accessible to everyone."
E-mail to a friend

CNN's Denise Quan contributed to this report.
All About Live Nation Inc. • Concerts and Tour Dates • Def Leppard • Dave Matthews Band