By Shanon Cook
CNN





NEW YORK (CNN) -- It's a good thing Chrisette Michele didn't choke last week when she heard the news she had a No. 1 album on her hands.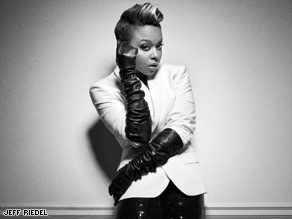 Chrisette Michele's album "Epiphany" debuted at No. 1 earlier in May.
"I was backstage at the David Letterman show on a couch, probably eating grapes," says the singer-songwriter. "I always eat grapes before I go on."
The acid and pectin in the fruit help prepare her voice for performing, the 26-year-old goes on to explain. But nothing, she says, could have prepared her for the excitement she'd feel upon learning her sophomore album, "Epiphany," debuted atop the Billboard 200 chart. She had to go chill out at a lakeside ranch for a couple of days to let it all sink in.
But this isn't Michele's first big career moment: She won a Grammy this year in the Best Urban/Alternative Performance category for her single, "Be OK," featuring will.i.am. The song first appeared on her soul-tinged 2007 debut album "I Am," for which she penned all her own lyrics.
This time around, Michele, whose voice has earned her comparisons to Billie Holiday and Jill Scott, relinquished some songwriting duties to R&B singer Ne-Yo.
Michele talked to CNN about the experience of sharing pen and paper, the real-life epiphany behind "Epiphany" and why she likes making mischief.

Watch Michele belt out a tune »
CNN: Have you had a big epiphany recently?
Michele: I have epiphanies all the time, because I'm always thinking. I'm a thinker. I'm always writing poetry, I'm always coming to conclusions.
The latest epiphany is that I really don't have to be afraid of anybody. And the reason why it was an epiphany was when I first started, I was so afraid that maybe they won't like me. And I was just being myself, I was being really honest. And so I felt that if they didn't like me that would really hurt.
But I found out that there's a lot more lovers out there than I realized, and the world is much smaller than I thought. And so there's no need to be afraid.
CNN: Tell me about the single.
Michele: "Epiphany" is about a girl who's sitting on her couch and saying "You know what? I'm sick and tired of waiting for these phone calls. I'm sick and tired of waiting for him to come home." I think I'm just about over being his girlfriend. And that's her epiphany. That's her a-ha moment.
CNN: How does this album demonstrate how you've progressed as an artist?
Michele: One way is that I didn't write some of the songs. Pride destroyed! Ego smashed! Pens, pencils thrown across the room! It was so tough at first.
But then I started working with Ne-Yo. Ne-Yo is the easiest person to talk to, and he made my experiences come to life with his lyrics. I was afraid that if somebody took the pen and the pad that it would suddenly turn into somebody else. But he did a wonderful job of capturing Chrisette Michele and it was a beautiful experience.
CNN: Who's your favorite jazz performer in the world?
Michele: Ella Fitzgerald. But I can't narrow it down to just one. I get excited when we talk about jazz.
CNN: Which living jazz musician would you like to work with?
Michele: Diana Krall. A female piano player is always pretty cool to me. I went to school, did jazz and there weren't a lot of ladies who sat down and did those jazz things at the keys that she does.
CNN: Why don't you think young people appreciate jazz as much?
Michele: I'm an advocate of music in schools. It's important to me that music is in as many schools as possible across this country and across the world. I think that it's a lost art form because kids aren't as exposed to it as maybe they used to be, or should be. I was exposed heavily to jazz and that's why I love it.
CNN: I hear you're a bit of a prankster.
Michele: When I was in school I used to prank my teachers all the time. But I was really, really nice. I love to make people laugh. And even in those pranks, the teachers would laugh most of the time.
CNN: What's your favorite album of 2009 so far?
Michele: Mine (smiles mischievously).

CNN: Besides yours.
Michele: What is in my iPod right now on repeat is John Legend's "Evolver." I can't get enough of that record. I also love Adele's new album. It's incredible, especially the live side. Those are two that are on my radar.
E-mail to a friend