By Sean Callebs
CNN





NEW ORLEANS, Louisiana (CNN) -- Of all the amazing New Orleans, Louisiana, musicians, my favorite could be Troy "Trombone Shorty" Andrews.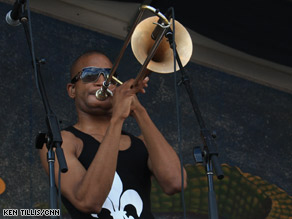 Troy "Trombone Shorty" Andrews performs on the Gentilly stage at the New Orleans Jazz Festival.
He cut his teeth at age 4 playing with legends like Bo Diddley. At 19, he toured with Lenny Kravitz.
And now, at age 23, Trombone Shorty is getting ready to play with Aerosmith and release his latest CD. He's played every venue in New Orleans you can think of.
I had the chance to catch up with him at the 40th annual New Orleans Jazz Festival this week. The following is an edited version of that interview.
CNN: You can't ask for better weather, better crowd, and to be the face of Congo Square. How does it feel?
Trombone Shorty: Well, it feels great. I'm happy to be in my city and get a warm reception like that from the audience.
And I'm honored to be on the poster this year, because when they first called me, I thought it was a joke. I thought I had to put in at least 20 more years of work. So for me to be one of the youngest on there ever, I'm happy. I'm like a kid in a candy store.
I just want to find ways to help the city, and one of the ways to do it is right here at the Jazz Festival.
Don't Miss
CNN: What does it mean to be here, especially this kind of crowd, on the 40th anniversary [of the festival]? The economy has been bad, but can you put a price tag on what it does to the spirit?
TS: Everywhere I go around the world, we have fans of New Orleans. Sometimes we go places, and people don't really know who we are, but they know New Orleans, and once we say we are from New Orleans, we have a lot of supporters.
To be here on a wonderful day and to have a big crowd of people coming out to help New Orleans is a wonderful thing.
CNN: Tell me about your band, the education you got and these young guys playing with you. What you are going to mean to the city as you age and get the recognition that you deserve?
TS: I just want to spearhead and lead a new style of New Orleans music. A lot of people have been doing the same thing for years, and I just want to be one of the people who create the next 50 years of New Orleans.
And my band, most of them I got from NOCA (New Orleans Creative Arts), where Wynton Marsalis, Harry Connick and most of those guys graduated. Some of them I met from Loyola, and we all got together.
I was a natural musician first, then I went to school, and I got the best young musicians I saw around town, and we have been playing in this band for nine or 10 years now.
CNN: I've seen you the last several years, and you seem much more comfortable as a front man. Not just playing the horn great but leading the crowd, singing. Am I right reading into that?
TS: I wanted to become a better entertainer, and I learned from my brother James Andrews. And I've been studying some tape of James Brown and different people.
I've just wanted to see what I could do. I just wanted to make people comfortable with seeing a horn. Because if you see a horn on a poster with some guy, you automatically think it's a sit-down jazz thing.
And coming from Treme [New Orleans], everything has been about dancing and second-lining and partying and everything. That's where I am from, so I just wanted to take that and put it with this style of playing.
CNN: Tell me what your favorite food is. Do you get to sample a lot of it?
TS: I gotta say the crawfish monica and the crawfish bread. I like that. I eat it every day. Last year I got sick from eating like 10 of them!
E-mail to a friend

All About New Orleans • Jazz and Blues