By Sean Callebs and Jason Morris
CNN





NEW ORLEANS, Louisiana (CNN) -- While attending the first Louisiana Heritage Fair in Congo Square 40 years ago, legendary gospel singer Mahalia Jackson and influential jazz artist Duke Ellington spontaneously led a brass band and crowd of second-line revelers on a parade through the festival grounds.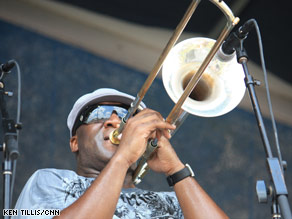 Big Sam's Funky Nation performs Saturday on the Gentilly Stage at Jazz Fest in New Orleans.
The spirit of Jazz Fest was born.
Now, the annual New Orleans Jazz & Heritage Festival has evolved into a two-weekend, seven-day party.
"We really set out to be an indigenous self-celebration by the culture -- like the world's greatest backyard barbeque -- and to celebrate the tradition of New Orleans," said producer-director Quint Davis, who co-founded the event.
"And now, after 40 of these festivals, we really have become one of those traditions."
Music lovers were all smiles during the first weekend, walking from stage to stage listening to great New Orleans jazz, blues, funk, rock, zydeco, gospel and everything between.

See scenes from the festival »
Fans also were treated to huge national artists such as the Dave Matthews Band, Wilco, James Taylor, Erykah Badu -- just to name a few.
The two weekends of Jazz Fest are expected to draw 400,000 people. Forty percent of the crowd comes from outside Louisiana, and Davis said he was aware that this year's economic environment meant huge sacrifices for many to pull off making the trip.

Watch why Jazz Fest may be just what the doctor ordered for New Orleans »
"The festival always has been this sort of battery to recharge yourself, your spirit and your heart and soul. Now more than ever, our festival does what it does and shows people the healing power of music," Davis said.
"The fact we we are daytime event, and the festival ends at seven o'clock means everything to the local economy. ... New Orleans during Jazz Fest we kind of call it a funk principality."
But just because the Fair Grounds Race Course closes at 7 p.m. doesn't mean the parties are over.
Musicians pour into the city's famous music venues, clubs and bars, collaborating with each other and jamming late into the early-morning hours.
Art Neville, 71, played the first festival 40 years ago. His first gig this year was Saturday when his band the Funky Meters took the stage at the House of Blues at 2:15 a.m.
Neville said the importance of the festival to New Orleans is enormous, especially after months of talk of plunging 401(k)s and foreclosures.
"The reaction I see from the crowds, I'm going through the same thing that they are going through," he said. "So we play music for them to try to make them smile for a little while or make them laugh and dance."
This is a place where people come to see legends, but also where younger musicians have a place to impress new fans. Troy "Trombone Shorty" Andrews, 23, has been performing since he was 4 -- when he was half the size of his trombone.
"I just want to spearhead and lead a new style of New Orleans music. A lot of people have been doing the same thing for years, and I just want to be one of the people who create the next 50 years of New Orleans," Andrews said.
Andrews joked that he got sick from eating 10 orders of crawfish monica at last year's festival. But the cajun cuisine here is no joke; it has become legendary. Davis said in many ways he considers the food here the best on Earth.
"You know it could be called the New Orleans Food and Heritage Festival," Davis said, joking. "It's not like any other festival. There's pheasant quail, andouille gumbo; there's soft shell crab sandwiches, pecan trout meuniere, oyster patty sacks pastry."
Of course, the music lineup is even more diverse than the food. Every year there are many draws in addition to the plethora of great New Orleans acts.
The first weekend this year held a special treat for Jazz Fest purists. Folk legend Peter Seeger, who will turn 90 on Sunday, performed folk gems with grandson Tao Rodriguez-Seeger and the rest of their band Mike and Ruthy.
"I think it's a fantastic job they've done here. Forty years, 40 years," Seeger said with a huge smile. "That's a tremendous achievement -- and to keep it going year after year with new things and old things tangled up together."

The second weekend features Neil Young, Buddy Guy, Bonnie Raitt and the Neville Brothers.
For a city fueled by tourism dollars, great weather and music seems to be the equation that can trump an economic recession -- at least for a couple of weekends.
E-mail to a friend

All About Jazz and Blues • New Orleans