By Todd Leopold
CNN





ATLANTA, Georgia (CNN) -- As he entered his 60s, Booker T. Jones -- keyboardist, arranger, producer -- realized he needed to learn how to make records again.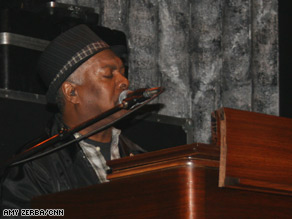 Booker T. Jones went back to school to relearn his way around a recording studio.
"I was languishing for a long time," he says.
It's a surprising and frank admission from a guy who helped create the Memphis soul sound while at Stax Records in the 1960s, and later produced albums by Bill Withers and Willie Nelson.
Jones' sometimes-stately, sometimes-slashing organ lit up records from Otis Redding, Sam and Dave, and his own Booker T. and the MGs, including Redding's "Try a Little Tenderness" and the MGs' classic "Green Onions." He'd been a key influence at Stax, helping with the arranging and co-writing songs such as the blues standard "Born Under a Bad Sign" (with William Bell) and Eddie Floyd's "Big Bird" (with Floyd).
And yet, he said, he'd gotten to the point where a recording studio, with all its digital bells and whistles, had gotten to be an alien landscape.
"I had to reeducate myself about recording. I was a pretty analog old-school record guy," he says. "I found myself, four or five years ago, unable to walk into a studio."

Watch Booker T. perform »
So Jones, who now lives north of San Francisco, took a series of courses at local universities -- not unusual for a man who was taking college classes during the MGs' peak years. He also decided it was time to record for the first time in 20 years, turning to a new page in the Booker T. book. The result is his new album, "Potato Hole" (Anti), which came out Tuesday. Read EW's favorable review of "Potato Hole"
Don't Miss
"Potato Hole," which includes support from the Southern roots band the Drive-By Truckers and old hand Neil Young -- who used a regrouped Booker T. and the MGs as his backup band several years ago -- finds Jones in a hard-rocking mood. Guitars and powerful drums dominate as much as Jones' faithful Hammond B-3 organ, and the songs include a clever take on OutKast's "Hey Ya" as well as the rousing "Space City" and the seven-minute title cut jam. (A potato hole, incidentally, was the place underneath the floorboards of a shack where slaves kept extra food.)
"This is rock. This is part of Booker T. you haven't seen before," he says.
Jones met the Truckers at the South By Southwest festival a couple of years ago when his manager suggested he jam with them. "[The manager] started talking about the type of music I might want to make and the directions I might want to take, and that was a direction that came up," he says.
The Truckers' Patterson Hood says the invitation caught him by surprise. Jones' jam with some of the Truckers was brief, so it wasn't until around last year's Democratic convention -- at which the Truckers played -- that the pairing was formalized.
"We were asked on a Tuesday, and two weeks later, the record was finished," Hood recalls. Describing the group as "huge, huge soul fans," he says the speed worked to the their advantage: "It all happened so fast we didn't have time to be nervous [around Jones]," he says.
Such casual meetings seem to come easily for Jones. Booker T. and the MGs got its start because the 16-year-old Jones liked to hang around the record shop connected with what was then the Satellite recording studio. The clerk -- and occasional Satellite guitarist -- was Steve Cropper. One day, a saxophone player couldn't make a session and recommended Jones.
"I was in the 11th grade. ... David Porter, my friend, borrowed the band director's car and drove me over there -- got me out of class with a hall pass. Took me over there in the middle of the day. I was glad just to get out of class," Jones chuckles.
Eventually, Jones got together with Cropper, drummer Al Jackson and bassist Lewis Steinberg (later replaced by Donald "Duck" Dunn). The biracial quartet became the cornerstone of the Stax sound. (Porter teamed with pal Isaac Hayes to write and produce several Stax hits.)
The group took Jones in unexpected places, musically and otherwise. The MGs had hits with the theme to a Clint Eastwood movie, "Hang 'Em High," as well as a little bit of Caribbean funk, "Soul-Limbo." There was even a 1970 album, "McLemore Avenue," that was almost a track-by-track interpretation of the Beatles' "Abbey Road."
The group also supported Redding, Sam and Dave and other Stax artists on a 1967 European tour, the performances of which became what is considered one of the best live albums, Redding's "Live in Europe."
Jones says he remembers that tour as if it were yesterday.
"It was totally unexpected that the English people knew our music," he says, noting that the BBC barely played soul music. (Fans probably got their soul from the then-prevalent pirate stations.) "But the audience was so warm and so big, so enthusiastic, that it probably contributed to the shows."

He hopes the audiences are equally appreciative as he tours with the Truckers, a schedule that will take him to the New Orleans Jazz and Heritage Festival on Friday. But as he sits in Atlanta's Variety Playhouse in early April, picking out "Born Under a Bad Sign" from behind a weathered B-3, he sounds comfortable just making music.
"That's part of the beauty of my life right now," he says of the opportunities he's had over his long career. "That I'm able to have some fantasies come true."
E-mail to a friend

All About Classic Rock • South by Southwest Festival • Soul Music