By Lisa Respers France
CNN





(CNN) -- How does a Jewish guy from Richmond, Virginia, end up mining for gold in the genre of R&B music?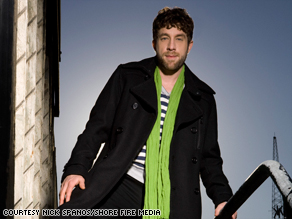 Elliott Yamin placed third on "American Idol" a few years ago and is now a successful independent artist.
"I know, right," laughed Elliott Yamin. "And don't forget the two Christmas albums I've done."
Yamin, the third-place finalist in season five of "American Idol," is not what you would expect from someone who has achieved fame and success from the hugely popular show.
Years after he wowed judges with his soulful sounds, the independent artist remains humbled by the attention and grateful to the show and its fans for a shot at stardom.
"I still have a sizeable fan base from being on the show," Yamin said. "To get a toenail in the door of this business is hard enough and to sustain your success is even harder."
He's shooting for that continued good fortune with the planned May release of his sophomore album, "Fight For Love," which continues his love affair with soulful R&B music.
His self-titled debut album, which came out in 2007, entered Billboard as the highest new artist debut on an independent label in SoundScan history (No. 3 on the Top 200) at that time and spawned the platinum-certified, Top Five hit "Wait For You."
This time around, Yamin doesn't have the mega-machine that is "American Idol" buoying him, but he does have a few years experience in the business and more creative control, he said.
Don't Miss
"The first album, we took our time with it, but at the same time we wanted to capitalize on the exposure that 'American Idol' gave me and I was green to the process of recording," he said. "This record differs because I've really grown and come into my own as an artist and a singer and I got to be part of the whole record. I co-wrote most of the album."
He also enlisted the help of some high-profile producers, such as Dave Tozer (who has worked with the likes of Jay-Z, Kanye West and John Legend), StarGate, and Jermaine Dupri.
And while he acknowledges that he has not had the same type of career as a fellow contestant from that season, Grammy-nominated rocker Chris Daughtry, Yamin said he is content with being an independent artist on Hickory Records.
"There's nobody really breathing down my neck telling me what I should or shouldn't do. It's very grassroots style and very organic the way we have done it," Yamin said. "When it comes to touring and merchandising, it's a little more profitable to me than, say, somebody even like Daughtry, who is selling millions and millions of records, because our deals are a little different." iReport.com: What do you think of this season of "Idol"?
"I don't have to sell millions and millions of records, although that would be nice, to see a profit," he added. "[As an independent artist] I'm my biggest asset."
Cortney Harding, indies correspondent for Billboard, said Yamin appears to be playing it smart.
" 'American Idol' gives you a boost and you can take that and use it how you want," said Harding, who added that the indie deals can be structured so that the artist recoups money quicker. "If you are a radio artist, you kind of need that major label machine, but if you want to do something that's not straight radio-friendly pop -- and you find the right partnership and the right people -- then it's great to go indie."
Yamin has clearly done well, as evidenced by the recent purchase of his first home in Los Angeles, California.
But it's the creative freedom that he most enjoys, and which allowed him to pour himself into this latest project.
Yamin used the album in part to help him deal with the grief from the death of his mother at age 65 this past year. "Someday" is about the loss of Claudette Yamin, who could often be seen in the audience of "American Idol" proudly cheering for her son.
"Losing her was really tough," Yamin said. "Music has always helped me in that it has always been a creative outlet for me to channel any emotion, whether it be good, bad or sad."
Yamin can thank his mother for his exposure to R&B, because she was also a soul singer. He grew up listening to the greats like Stevie Wonder and Donny Hathaway.
He said people have always expressed surprise at how soulful he sounds, and "American Idol" helped showcase his talent to the world.
For that reason, Yamin said, he doesn't mind that he is still talking about "AI" three seasons later.
"I understand that I will always be synonymous with the show. I get that and I am all right with it," he said. "I think I am a few more hits away from just being 'the artist Elliott Yamin.' "
E-mail to a friend

All About American Idol • Chris Daughtry • R&B • Soul Music