By Faith Karimi
CNN





(CNN) -- Malawians are rallying behind Madonna as she awaits a ruling Friday on whether she can adopt a girl from the southern African nation.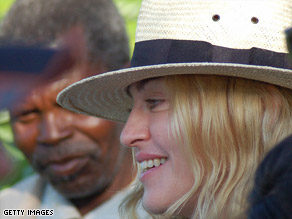 Madonna arrives in Lilongwe in Malawi, where she hopes to adopt a second child.
The pop star, who has three children, adopted a son from Malawi in 2006. She is seeking to adopt Chifundo "Mercy" James, 4.
"Ninety-nine percent of the people calling in are saying, 'let her take the baby,' " said Marilyn Segula, a presenter at Capital FM, which broadcasts in at least five cities, including the capital, Lilongwe.
"People are saying: 'Why are these NGOs pretending to care now? If anyone wanted to amend the law, they should have done it with other adoptions.' "
The law in Malawi stipulates that foreigners must have lived in the country for more than a year before they can adopt legally.
A local umbrella group for nonprofits accused the pop star Thursday of taking advantage of a weakness in the system just days after charity Save the Children UK said the child, whose teenage mother died days after her birth, should be raised by her extended family.
"We are concerned that our laws are being taken advantage of -- Malawi has very archaic adoption laws that have not changed in the past 50 years," said Mavuto Bamusi, the national coordinator of Malawi Human Rights Consultative Committee.

Watch why Madonna is being criticized »
"We are actively campaigning for a change in laws," Bamusi added. "Yes, Malawi is poor, yes, it has a high mortality rate -- we are not disputing these facts. But is not an excuse to take children out of the country."
Chris Kamlongera, a drama professor at a university in Zomba, disagrees.
"If the nearest relatives of the child have no objection, what right does anyone have to challenge an offer to help a child?" Kamlongera asked. "If Madonna had ill-treated the first child she adopted, then they can argue. Otherwise, this is just another noise that will subside."
Kamlongera's sentiment is echoed by many in the nation, one of the poorest and least developed in the world. About two thirds of its citizens live below the poverty line while 46 percent of children under age 5 are chronically malnourished, according to the U.N.
"The critics have to ask themselves: Will they adopt that child? Have they ever adopted a child? If not, leave Madonna alone," said Bruce Charles, 29, a tour operator in Lilongwe.
Pheroce Tendame, Charles' co-worker, said while the welfare of the child is important, Madonna must abide by the law.
"She should not be treated differently, efforts must be made to ensure rules are followed because it is for the good of the child," Tendame said.
The pop star, who recently divorced filmmaker Guy Ritchie, first met Chifundo a few years ago.
"She has always had in mind that this is the girl she was going to come back and adopt," said Martin Geissler, a reporter for the ITN television network, who is in Malawi.

A judge will issue an interim ruling Friday as scheduled, according to Ken Manda, senior deputy registrar at high court of Malawi.
"A positive decision will mean she can foster the child, then someone will visit her home later on to check on the girl before a permanent ruling can be made," Manda said.
E-mail to a friend

CNN's Ben Brumfield contributed to this report.
All About Madonna (Entertainer)