LONDON, England (CNN) -- "Why do I find it hard to write the next line?" If you recognize the lyric then brace yourself for some good news.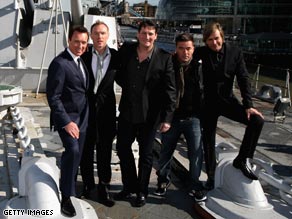 Spandau Ballet, pictured aboard HMS Belfast, on Wednesday.
Twenty years since their acrimonious split, Spandau Ballet -- the pin-up boys who helped shaped the sound of 1980s glam pop -- have announced the first dates of what band members say will be a full world tour.
The Tony Hadley-fronted band, who enjoyed worldwide success with hits such as "True" and "Gold," will launch their comeback in Dublin, Ireland, on October 13 before playing seven dates across the UK.
Wednesday's announcement took place onboard HMS Belfast, a retired Royal Navy moored in the Thames that was the scene of a key early gig by the band in 1980 that launched them on the road to global stardom.
"It is impossible to stress too highly how achingly fashionable Spandau Ballet were in the winter of 1979 and the summer of 1980," GQ magazine editor Dylan Jones writes in a biography of the band.
Formed at a London school in 1979, Spandau Ballet went on to sell 25 million records worldwide, emerging out of the post-punk "New Romantic" music scene.
Along with fellow British band Duran Duran, their sound, style and attitude came to define an era dominated by ostentatious glamour, gold lame suits and big hair.
"Not only did their albums sell by the millions, but their look and style impacted on the fashion world and beyond," said a press release, summing up the band's influence on the decade.
"They created their own style, combining creativity with entrepreneurship and the 'can do' spirit of early 80s youth at a time of crisis and upheaval eerily reminiscent of 2009. Spandau Ballet are both commercially and culturally enormous."
Following the band's split in 1989, several members including Hadley unsuccessfully sued main songwriter Gary Kemp for a larger share of songwriting royalties.
Since then, Hadley has appeared in the London production of the hit musical "Chicago" and also won an 80s revivalist reality TV show "Reborn in the USA." Several other members of the band have carved out moderately successful acting careers.
E-mail to a friend