By Alan Duke
CNN





ATLANTA, Georgia -- Gospel singer BeBe Winans, a celebrity judge on BET's "Sunday Best" show, was charged this week with assaulting his ex-wife last month during an argument about their children.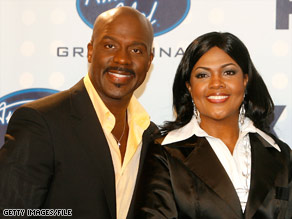 Gospel singer BeBe Winans, with sister and duet partner CeCe, is free on bond, according to jail records.
Winans, 46, was jailed briefly Wednesday afternoon before posting a $1,000 bond, according to Nashville-Davidson County (Tennessee) jail records.
The arrest warrant was issued based on an affidavit from Debra Winans, whom he divorced six years ago after 16 years of marriage.
"The victim and the defendant got into an argument about custody issues dealing with their children," according to her affidavit published Friday on The Smoking Gun Web site.
The document alleged that the incident happened February 13.
"The victim was telling the defendant of issues with the children when he became irate," it said. "The defendant then pushed the victim to the ground. The victim was in fear of bodily injury."
Debra Winans spoke to CNN TV affiliate WSMV in Nashville on Thursday. "He pushed me to the ground in front of my children," she said.
The argument happened in the driveway of her Nashville home on the eve of Valentine's Day, she said.
"When you're married to someone known all over the world, it has serious challenges," she said.
Bebe Winans, who was in Atlanta Friday for a taping of "Sunday Best," responded in a statement from his publicist.
"To be accused of these allegations, which arose out of a child custody right [sic] dispute and my desire to spend time with our children as court ordered, is nothing less than heart wrenching," he said.
"Since I choose to say nothing negative about my children's mother, I will make no comment other than to say the allegations are inconsistent with my character and the foundation upon which I was raised and I am prayerful that the matter is straightened out very soon for the sake of our children."
BeBe and Debra Winans have a 13-year-old daughter and 10-year-old son.
Winans, winner of four Grammys, is best known for gospel albums recorded with his sister, CeCe Winans.
E-mail to a friend

All About Celebrity News • Gospel Music • Nashville • Grammy Awards