By Todd Leopold
CNN





(CNN) -- As a concert, the Grammy Awards are often well worth watching. Witness Sly Stone coming out of retirement, or the raucous tribute to the Clash's Joe Strummer a few years back, or even the hushed opening by a reunited Simon & Garfunkel in 2003.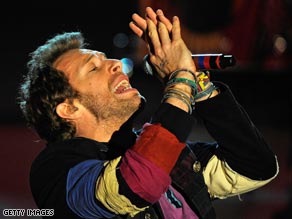 Coldplay is up for Grammys in the big three categories: album, record and song of the year.
But as an awards show? Not so much.
Each year, the winners of the Grammys' major categories -- record of the year, song of the year and album of the year -- often tilt toward safe, veteran acts or newcomers who sound like safe, veteran acts. Occasionally a fresh face breaks through -- Amy Winehouse took home record and song of the year last year -- but usually the winners are balladeers (Norah Jones), R&B balladeers (Alicia Keys), legendary figures (last year's album of the year winner, Herbie Hancock) or late legendary figures (Ray Charles, who won album of the year for his posthumous release, "Genius Loves Company").
"Making fun of the Grammys is ... almost too simple," wrote MTV.com's James Montgomery. "They're easy targets: gigantic, slow-to-turn battleships of mass appeal, just floating there, awaiting a well-placed torpedo."

Watch the latest on top nominees »
But, says Blender magazine's Joe Levy, this year might be different.
"The whole purpose of this year's Grammys is to be more exciting than last year's," he said. "Last year, of course, album of the year went to a Herbie Hancock album -- a jazz album of covers of Joni Mitchell songs. I think the Grammys would like to avoid that this year, and they've done that by making the nominees hipper than they have been for many years recently.
"Also, the lineup of performers is frankly stellar," Levy said.
Indeed, this year's Grammy performers include Paul McCartney (with the Foo Fighters' Dave Grohl backing him on drums), U2, Coldplay, Grammy nominations leader Lil Wayne, Radiohead, Kenny Chesney and Justin Timberlake.
Among the presenters: Craig Ferguson, Sheryl Crow, Jack Black, Gwyneth Paltrow (the wife of Coldplay singer/pianist Chris Martin) and Al Green.
Rapper Lil Wayne received eight nominations, including album of the year (for his "Tha Carter III"). Coldplay earned seven nods, including album of the year (for "Viva La Vida") and record of the year (the title track). EW: Who's going to win? Who should?
Among others with multiple nominations are Ne-Yo, Jay-Z, Kanye West, Alison Krauss, Robert Plant, Radiohead and newcomer Jazmine Sullivan.

See some categories way under the radar »
Levy said this year's album of the year category -- which also includes Plant and Krauss ("Raising Sand"), Radiohead ("In Rainbows") and Ne-Yo ("Year of the Gentleman") -- looks to be competitive. Moreover, even if the award goes to Plant and Krauss' minimalist, T Bone Burnett-produced album -- the "adult" favorite -- it's still OK.
"Raising Sand" is "a classy grown-up record, a subdued sound, and if that wins album of the year, then, you know what? The dude from Led Zeppelin won album of the year," Levy said. "The people at the Grammys are trying to figure out how to be classy and grown up, but still cool."
For his part, Ne-Yo was flabbergasted to find himself in such august company.
"It's a beautiful thing," he said. "I'm a little dumbfounded right now, but I'm a huge fan of Coldplay, huge fan of Radiohead."
The big awards feature artists from many genres. Aside from Coldplay, nominees for record of the year are Adele's "Chasing Pavements," Leona Lewis' "Bleeding Love," M.I.A's "Paper Planes" and Plant and Krauss' "Please Read the Letter."

Watch M.I.A. talk about her music and her work »
The nominees for song of the year, a songwriters' award, include "American Boy," popularized by Estelle featuring Kanye West; "Chasing Pavements," whose hit version was performed by Adele; "I'm Yours," written and performed by Jason Mraz; "Love Song," written and performed by Sara Bareilles; and Coldplay's "Viva La Vida," written by the band.
Despite all his nominations, Lil Wayne has low expectations of winning.
"Do I think I'm going to win any? No," he said in a recent video blog, according to the Canadian Press. "Because you know politics. I think they think it's just enough to nominate me or something."
Levy, too, is trying to keep his expectations low -- though he still hopes for some big moments.

"If anyone can have an evening packed with musical excitement and dull the excitement ... it's NARAS," he said, referring to The Recording Academy, the organization that oversees the awards. "[But] they're trying to make a case this year that something exciting is going on. So they packed it with performers, young and old. Anything that features Miley Cyrus and U2 is definitely casting a wide net, but I think it could be a good one."
The Grammys are scheduled to air Sunday beginning at 8 p.m. ET. The show will be on CBS.
E-mail to a friend

CNN's Denise Quan contributed to this article.