By Todd Leopold
CNN





(CNN) -- The facts are these: Just after 1 a.m. February 3, 1959, a three-passenger Beechcraft Bonanza went down about five miles northwest of Mason City Municipal Airport, near Clear Lake, Iowa. The plane crash took the lives of the pilot, Roger Peterson, and three musicians: Charles Hardin Holley, better known as Buddy Holly, 22; Ritchie Valens (originally Valenzuela), 17; and J.P. "The Big Bopper" Richardson, 28.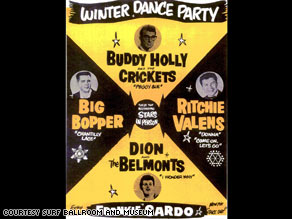 The three young musicians were part of the "Winter Dance Party," a ramshackle tour that started in Wisconsin.
It has become famous, in Don McLean's "American Pie" formulation, as "the day the music died."
The event has echoed through rock 'n' roll history for 50 years, representing, if not the end of rock 'n' roll itself, the close of an era, the end of the first bloom of rock anarchy and innovation.
"It was like a curtain coming down," said Terry Stewart, president of the Rock and Roll Hall of Fame and Museum, which is co-hosting a series of events in Clear Lake for the anniversary, including classes putting the event in historical context.
As they have for decades, visitors have been making the pilgrimage to the resort town about 110 miles north of Des Moines. On Monday night, the 50th anniversary of the trio's deaths, the city's Surf Ballroom and Museum will host a huge concert in conjunction with the Rock Hall.
Expected are luminaries including Graham Nash, whose 1960s British band was named for Holly; the Smithereens' Pat DiNizio, who wrote the song "Maria Elena" for Holly's widow; Los Lobos, who followed in the Hispanic-rock tradition begun by Valens; Texans Delbert McClinton and Joe Ely; and Tommy Allsup, who was a Holly sideman at the show 50 years ago. iReport: Do you remember this era of rock? Share your memories
"The vision [for the Monday show] has always been that we go back to the roots," said Laurie Lietz, the Surf's executive director. "There were so many who were influenced by [the trio]. So the tribute concert is really a tribute to each individual."
The Surf, which was refurbished in 1995 by a local family (it's now run by a foundation), includes the original stage, the telephone where Holly and Valens placed their last calls, guitars, photographs and a green room with hundreds of autographs.
They all pay tribute to the last show for three men.
Holly, Valens and Richardson were part of the Winter Dance Party, a ramshackle tour that had started in Milwaukee, Wisconsin, and headed to small cities in Minnesota and Iowa.
The tour, which also included Dion and the Belmonts and members of Holly's backing band, had lumbered along in subfreezing temperatures in unheated buses; two days earlier, one bus had stalled out on a lonely Wisconsin road. By the time the group reached Clear Lake, Holly in particular was ready to bolt.
"Buddy was very determined when he wanted something," said his widow, Maria Elena Holly, of her "otherwise laid-back" husband of six months.

Listen to Maria Elena talk about Buddy Holly »
He booked the plane to fly to Fargo, North Dakota, where he planned to rest up and do laundry in advance of the group's next concert in Moorhead, Minnesota, across the state line.
Fargo native Bobby Vee, who remembers the tragedy vividly, acknowledges that he owes his career to the event. The then-high school sophomore named Robert Velline had come home for lunch and heard a local DJ talking about the Moorhead show.
"I had a ticket for the show. I was a huge Buddy Holly fan and a huge rock 'n' roll fan," he recalled, adding that a major rock 'n' roll concert in the area was a rarity. "As I got closer into the kitchen ... [my mother and brother] were talking about this plane crash that had taken place. I couldn't put it all together."
But the promoter had decided to go on with the show and invited local bands to participate. Vee was in a garage band, and a friend suggested that they participate. The band, so loose it didn't even have a name, got on the bill. At the end of the night, a local booking agent approached them, and the Shadows (a name Vee came up with as they waited offstage) entered the music business.
Vee's hits eventually included 1961's "Take Good Care of My Baby" and 1967's "Come Back When You Grow Up."
"It changed my life," Vee said. "I was a 15-year-old. I'd never experienced that kind of tragedy. I wasn't there to start a career -- I didn't know what a career was -- I was just there to help out, because that's what people do when there's a problem."
Rock critic Dave Marsh also remembers hearing about the crash.
"I went to the door of our little house in Pontiac, Michigan, and I picked up the newspaper, and ... it was the first thing I saw: Three rock 'n' roll guys dying in a plane crash," he says. "I was 9, but I had an aunt who was just seven years older than me and a mother who was an Elvis fan and who watched 'American Bandstand' every day. So I was aware. ... It was something to deal with, people that young dying."
But, indicating the lack of esteem for rock 'n' roll at the time, it wasn't a major national news story. The New York Times put a plane crash on its February 4 front page, but it was an American Airlines flight that had crashed near LaGuardia Airport. The Clear Lake tragedy was on page 66. The same was true for other major newspapers. iReport.com: How teens paid tribute to the trio
"[Holly] really wasn't known to the older generation," said "Austin City Limits" executive producer and Holly aficionado Terry Lickona. "Even in his hometown [of Lubbock, Texas], they were embarrassed by him."
The trio's deaths coincided with a period of dark events in rock 'n' roll history, including Elvis Presley's induction into the Army, Jerry Lee Lewis' blacklisting, the record industry payola scandals and Chuck Berry's Mann Act conviction, not to mention the rise of manufactured teen idols such as Frankie Avalon and Fabian.
Partly thanks to McLean's lingering phrase, the ensuing years have been painted as a rock Dark Ages, rescued only by the Beatles' arrival in 1964 at the vanguard of the British Invasion. McLean: Buddy Holly was a genius
Marsh says that canard, which he has refuted in "The Book of Rock Lists" and "The Heart of Rock and Soul," should be laid to rest once and for all.
"I think what happened was that people weren't paying attention themselves and assumed no one else was, either," he said. "I think it's also a way that glorifies the lack of stars [compared to rock's early days]. That was missing. ... I don't think Roy Orbison had quite the same stature."
Which doesn't mean that the music of Orbison, Phil Spector, early Motown or Gary U.S. Bonds deserves to be overlooked, he added: "The quality of the music is undeniable." iReport.com: 'Buddy Holly' performs as final tour re-created
What would have happened to the trio in that era is, of course, impossible to know. Valens, celebrated in the movie "La Bamba," was just starting his career and may have produced more hits; Richardson, a former DJ and radio program director who shot some rudimentary music videos, had shrewd entrepreneurial instincts.
And then there's Holly, with his songwriting talent, his arranging abilities (he did the strings on "It Doesn't Matter Anymore," his last single) and sheer knowledge of music.
Maria Elena Holly, who watches over his legacy, says Buddy had big plans: He wanted to do albums with Ray Charles and Mahalia Jackson; he wanted to try film music; he wanted to do music publishing.
"He was a multitasker in every way," she said. iReport.com: Musician discovered Buddy Holly through the Beatles
Monday, he and the others will simply be remembered at the ballroom where it's always February 2, 1959, and they're putting on another great show.

"When I come to these things, I don't think about [that] this is the last time I talked to him was from here. I think, I'm meeting the fans who have kept his memory alive," said Maria Elena Holly, who admits to getting "a little bit teary" when she hears "True Love Ways."
"And that's really what Buddy wanted to happen with his music: He wanted people to enjoy the music, to listen to it and make them happy," she said. "And when I think of it that way, I think at least his dream came true."
E-mail to a friend

All About Buddy Holly • Ritchie Valens