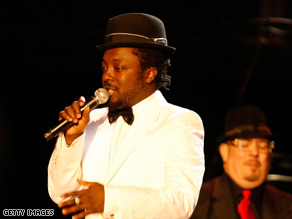 Will.i.am performs at the Neighborhood Inaugural Ball on January 20 in Washington.
(CNN) -- Will.i.am is in a good mood. This minute, he's in Vancouver, Canada, but he's feeling very American.
He's still smiling -- eyes tired but beaming, really -- after his whirlwind trip through Washington, despite the deadline in front of him. The musician has agreed to create a film short for CNN in which he shares his experiences attending the inauguration of President Obama.
Throughout the campaign and after the election, Will.i.am's songs "Yes We Can" and "It's a New Day" became anthems for those supporting the future president. So there he was, freezing, front and center and in full on party mode last week in the nation's capital, capturing the moments along the way.
CNN asked the 33-year-old front man for the Black-Eyed Peas to premiere the film he calls "New Day" for January 25. That gave him less than a week.

Watch Will.i.am's "New Day" »
What he's creating is a mix of video footage he and his crew shot over three days in D.C., set to music. He hopes "New Day" will be a visual backdrop of his reflections at the inauguration and his thoughts on where we need to go next as a country.
Oh, and did we mention he's in the middle of shooting scenes for his feature film debut in "X-Men Origins: Wolverine"? Will he be ready with his CNN film on time? No problem, he says. He's been ready for this moment for a long time.
CNN's Rachel Wells sat down with the multitalented man.
CNN: You've clearly been motivated by Obama, both his run for the presidency and now his actual presidency. How did you feel over the entire inauguration about Obama?
Will.i.am: The entire inauguration I felt like I was caught in a dream. You know, I was excited, emotional, concerned about the safety --there were a lot of people there, so ...
CNN: When CNN came to you and said, "We want to have an impressionistic sort of a film about your experience at the inauguration," what were your first thoughts?
Will.i.am: Oh, my first thoughts were, damn, CNN, it's like, it's my little second home or something. I would love to do something. I was enthused. A lot of my people, they were saying, "There's not enough time. Why are you putting more things on your plate? You've gotta go to Canada to film 'X-Men.' " My response was, "You know how many minutes there are in a day?" Not every single minute is occupied. We can squeeze things or use our imagination or figure out what we can do to continue to inspire. I mean, this is important. Just because the inauguration is over and Obama is president doesn't mean we stop inspiring. I mean, we did it.
CNN: Have you done other things on deadline like this before?
Will.i.am: Yeah.
CNN: Tell me about that.
Will.i.am: "Yes We Can" was on deadline. "It's A New Day" was on deadline. The song I wrote for Oprah, "America's Song," was a real tight deadline. So, you know, I'm good at executing when there is a little bit of time.
CNN: You've had some experiences with CNN before. Do you want to list the top three or even one?
Will.i.am: Well the top one was the hologram [on Election Day]. And that thing there was not planned. I just so happened to be walking in at the right place at the right time to meet that deadline and got hologrammed up. The second one was performing "It's a New Day" on "Larry King" the night of the inauguration. That was pretty special.
CNN: If you could describe what your best hope for this short film, how might you put that into words?
Will.i.am: What I would like this short film to be is another seed of inspiration to remind people of the task we have ahead of us. I'm glad CNN is realizing their responsibility and still coming up with content to inspire the youth, adults, male, female, black, white, rich and poor these next four years that we have ahead of us. Coverage, content, it's all important. So, if this is the first one after the inauguration and the beginning of the Obama presidency that we do together, I hope it's inspiring. I hope it's insightful. I hope it gives people all the tools they need to realize how important they are individually and how important we are collectively to come out of this.

CNN: If you could compose a question to President Obama and use the words both "hope" and "change," what would you say?
Will.i.am: It wouldn't be a question. I don't have a question for Obama. I have a sentence, a message, no questions. We have hoped, and because we hoped, things have changed. And now, let's continue to do. Let's continue to inspire the youth. Let's continue to push forward, educate the youth. Let's continue to solve these problems. You have the whole nation behind you. And because of that, the whole world. There are no excuses and no obstacle that we can't hurdle over. God bless you and us. And let's do it.
E-mail to a friend

All About Will.I.Am • Barack Obama • U.S. Presidential Inauguration