By Shanon Cook
CNN
NEW YORK (CNN) -- The tone of Snow Patrol's new album suggests that the Scottish-Irish band might be defrosting.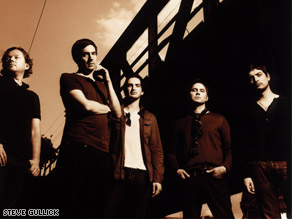 Snow Patrol's new album, "A Hundred Million Suns," is the band's fifth release.
"Not to sound too grandiose, but this is a new type of record [for us]," lead singer Gary Lightbody said. "It's a little cheerier. There's still darkness in there, but it's the darkness punctuating the light rather than the other way around."
Known as much for brooding breakup lyrics as their emotive, anthemic choruses, even the group's album title -- "A Hundred Million Suns" -- hints at a warmer direction. It's Snow Patrol's fifth album and follows the UK top-seller "Eyes Open," which was buoyed by the hit song "Chasing Cars." (The track reached millions of "Grey's Anatomy" fans during the heart-wrenching final scene of the series finale in 2006.)
CNN caught up with Lightbody (who, coincidentally, happens to be slight of frame and incredibly tall) while the band was on a mini-tour in the U.S. last month. He shared his thoughts on homesickness, optimism and medieval mischief.

Watch the band lighten up »
CNN: It sounds like you had an interesting upbringing. Didn't your dad used to dress you up in a suit of armor and send you off to school?
Gary Lightbody: (laughs) I think this must be on Wikipedia or something, because people keep asking me this question. I think somebody's just having a laugh on the Internet. I think it's brilliant. Who dresses up their son in a suit of armor? I would've absolutely loved that at school.
CNN: Wait, what does your dad do?
Lightbody: My dad is a medieval jouster.
CNN: For real ...
Lightbody: He makes costumes for medieval fairs.
CNN: Right, so it's not a huge stretch that he might dress you up in a suit of armor and send you off to school.
Lightbody: This never happened.
CNN: How would you characterize the new sound on your new album?
Lightbody: We tried an awful lot of different things on this record that we never tried before, and it was really a lot of fun. Our producer Garrett was pushing us into a lot of corners and avenues that we'd never been down before.
This record is more elaborate. I think it has more soul than any record we've ever made before. It's an extremely heartfelt, extremely positive record. All the other records have been a little more centered around breakups and the end of things. This is sort of the beginning of something.
CNN: You recorded the album in two different places. Where and why?
Lightbody: We recorded in Ireland, where we normally record, in a studio called Grouse Lodge, which is kind of right in the middle of Ireland. And we recorded the second half of the record in Berlin in Hansa studios, which is where David Bowie and Lou Reed and Iggy Pop made their Berlin records in the mid seventies. (Berlin) is just an amazing place to live in and work.
CNN: When you have a massive hit like "Chasing Cars" from your last album, does that create a feeling of "how do we top this?" when you next go into the studio?
Lightbody: Well, yeah, I suppose it does a little bit if you let that stuff get to you. We started off in Galway writing for six weeks and we didn't watch any music television and we avoided the music press ... and got ourselves [into] a neutral position. So we didn't really have any pressure on ourselves to deliver any album that wasn't from our heart. Hopefully, by now people are expecting an album that we want to make, not that we think they want to hear.
CNN: What is the biggest thing you sacrifice when you're a successful band?
Lightbody: Bison. That's quite big.
CNN: No, what do you have to give up?
Lightbody: Sorry, I thought you meant that crazy night in Wisconsin.
You are away from home a lot, but what you want when you start a band is to be successful. You want your music to be heard by as many people as possible. And if that happens, then you're going to be away from home a lot. So you can't really have anyone else to blame but yourself.
There are moments on long, long tours where you find you're very homesick. But you get over it. We're all really good friends, and anybody that's ever feeling down ... the rest of the guys are very funny, and we always keep each other laughing.
CNN: I read that you're a little bit concerned that your memory is disappearing. When you sit down to write songs, you're aware that your memory is getting away from you.
Lightbody: Yeah, it's not so much when I'm writing. It's more when I'm trying to remember when we're playing live. The lyrics and things. It sort of became part of the set when I would forget the words, and the crowd would kind of help me out a bit, and people would laugh affectionately. But I think there's only a certain amount of time that people will put up with that. (laughs)
E-mail to a friend