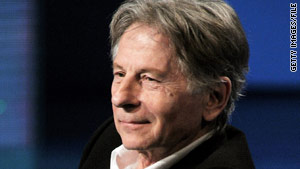 Director Roman Polanski is under house arrest in Switzerland pending extradition to the United States.
STORY HIGHLIGHTS
Ruling lists various options available to Polanski, including return to U.S.
Court: Lower court can't consider dismissing charges unless Polanski is present
Oscar-winning director is under house arrest in Switzerland pending extradition
He's charged with sex offense with 13-year-old girl in 1977
Los Angeles, California (CNN) -- A California appeals court ruled Monday film director Roman Polanski must be present before a lower court can consider a motion to dismiss a decades-old sex offense charge against him.
"We conclude that the trial court did not abuse its discretion" in failing to consider the motion without Polanski's presence, said the 70-page opinion issued by a three-judge panel for the 2nd District Court of Appeal. The director remains under house arrest in Switzerland pending extradition to the United States.
However, the court said, "we do not disregard the extremely serious allegations of judicial and prosecutorial misconduct that have been brought forward, but urge the parties to take steps to investigate and to respond to the claims."
Polanski, 76, was arrested in Switzerland in September on a U.S. arrest warrant stemming from a case more than three decades ago.
He pleaded guilty in August 1977 to having unlawful sex with a then-13-year-old girl five months earlier. He was 43 at the time. Prosecutors in Los Angeles dropped other charges in exchange for the guilty plea.
But Polanski fled the country before he was sentenced, after learning that the judge in the case might not go along with the short jail term Polanski expected to get in exchange for the plea. He remained free, living mostly in France, until his arrest this year. Swiss authorities in early December released him from jail on $4.5 million bail "pending extradition" to the United States.
In February -- before Polanski was arrested -- Los Angeles Superior Court Judge Peter Espinoza denied a request by Polanski's lawyers to throw out the charge, but left the door open to reconsider. The judge said in effect that he was tossing out the request without considering its merit because Polanski was not present.
During the hearing, however, Espinoza acknowledged problems with the way Polanski's case was handled years ago, mentioning a documentary film that portrays backroom deals between prosecutors and a media-obsessed judge who was worried his public image would suffer if he didn't send Polanski to prison.
"It's hard to contest some of the behavior in the documentary was misconduct," Espinoza said.
Polanski's attorneys appealed, maintaining Espinoza could consider making that ruling without Polanski being present. But the appeals court judges disagreed in their ruling Monday.
"Polanski is not without any remedy," the opinion said. "He is only without the remedy that he prefers: complete release not only from any threat of future punishment, but also from the very charges themselves -- despite the fact that no misconduct has been alleged impacting the validity or voluntariness of Polanski's plea to unlawful sexual intercourse -- and all without ever having to subject himself to the jurisdiction of the court."
Options open to Polanski include requesting that he be sentenced in absentia, the court said, adding that his attorneys could argue at sentencing the appropriate sentence would be the time he's already served. He also could cooperate with the extradition process and return to California, where he could ask that the case be dismissed. And because he has already fulfilled the terms of the short jail sentence he says he was supposed to receive, he could appear for sentencing and ask the court to honor that provision.
In addition, he could file a petition asking for a review of the case and a stay of sentencing proceedings. While he might have to serve some time in custody, the judges said, "it appears that he would soon thereafter be able to establish a factual record of, and obtain all appropriate relief for, the very serious misconduct that it appears may have occurred here."
Earlier this month, Polanski attorney Chad Hummel told the judges that if the charge is not dismissed, there should at least be an evidentiary hearing on the legal mistakes alleged in the documentary to have been made by the judge and others.
"The people have sworn to facts that for 30 years they have known to be false," he said of prosecutors.
Prosecutors have argued that dismissing the Polanski case would be a miscarriage of justice and would allow him to escape punishment for his actions.
Among those in court for the arguments earlier this month was Marina Zenovich, who made the 2008 HBO documentary discussed by attorneys -- "Roman Polanski: Wanted and Desired."
Afterward, Zenovich told reporters she also believes there should be an evidentiary hearing to allow testimony from those involved in the case at the time, including retired prosecutor David Wells.
Wells told CNN's Wolf Blitzer in October that he "buttered up" his role in the Polanski case for the documentary crew, and lied about trying to goad a judge to sentence Polanski to prison. Polanski's arrest, Wells said, made his public exposure inevitable.
Polanski agreed to pay his victim $500,000 to settle a damage claim she filed against him nearly 12 years after the crime, according to court documents released in October. Polanski still owed the money, plus $100,000 in interest, three years after the 1993 settlement, according to the documents.
The victim sought money for damages suffered when Polanski had sex with her. She said he plied her with alcohol and quaaludes during a photo shoot at the Hollywood Hills home of actor Jack Nicholson.
It's not clear whether Polanski completed paying the debt to the woman, although court papers document efforts by her lawyers to garnish residual and other payments owed to Polanski by the Screen Actors Guild, movie studios and other Hollywood businesses.
The victim came forward long ago and has made her identity public, saying she was disturbed by how the criminal case had been handled.
Samantha Geimer, now in her 40s and a married mother of three, in January called for the case to be tossed out. Her attorney, Larry Silver, reiterated her position earlier this month, saying details of the case harm her every time the story is in the news.
Polanski won the best director Oscar for 2002's "The Pianist." He directed and wrote the screenplay for the 1968 horror movie "Rosemary's Baby," starring a young Mia Farrow. He was nominated for best director twice before winning -- for 1974's "Chinatown," starring Nicholson, Faye Dunaway, and John Huston, and for 1979's "Tess."
CNN's Paul Vercammen and Ann O'Neill contributed to this report.