Actress Jennifer Jones dies at age 90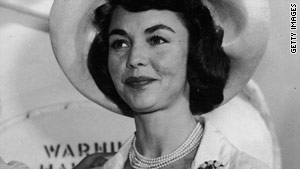 Actress Jennifer Jones was nominated for Academy Awards five times in her 35-year film career.
STORY HIGHLIGHTS
Jones won best actress Oscar for her first major movie, 1943's "The Song of Bernadette"
Jones' last role was a cameo in disaster movie "The Towering Inferno" in 1974
She helped found the Norton Simon Museum, named after her husband
Los Angeles, California (CNN) -- Jennifer Jones, who won the best actress Oscar for a 1943 film, died Thursday at age 90, according to a family spokesman.
Jones starred in two dozen movies and was nominated for Academy Awards five times in her 35-year film career.
"She put herself completely in the hands of the director more than any other actress I have worked with," director John Houston once said of her. "Jennifer took what you gave her and made it distinctly her own."
Her death was confirmed by a spokesman at the Norton Simon Museum in Pasadena, which she had chaired.
Jones spent much of the last four decades of her life supporting mental health research, hereditary disease, cancer research and the arts, the museum spokesman said.
Born Phylis Lee Isley in Tulsa, Oklahoma, on March 2, 1919, she studied drama at Monte Cassino Junior College in Tulsa and Northwestern University in Evanston, Illinois. She then moved to New York to attend the American Academy of Dramatic Arts.
It was in New York in 1939 that she married actor Robert Hudson Walker and began her acting career. They had a son together.
She changed her name to Jennifer Jones when she moved to Hollywood in the early 1940s for a screen test with legendary producer David O. Selznick.
Her first major movie was "The Song of Bernadette" in 1943. Her portrayal of Bernadette Soubirous, a peasant girl in 19th century France, won her the best actress Oscar.
Jones earned Oscar nominations in each of the next three years -- for Selznick's "Since You Went Away" in 1944, "Love Letters" in 1945 and Selznick's "Duel in the Sun" in 1946.
Jones, who divorced Walker in 1945, married Selznick in 1949. She and Selznick had a daughter together.
A fifth Oscar nomination came in 1955 for her co-starring role with William Holden in "Love Is a Many-Splendored Thing."
Jones accepted few acting jobs after her performance in "A Farewell to Arms" in 1957.
Her last movie appearance was a cameo role in the star-studded disaster movie "The Towering Inferno" in 1974.
Six years after Selznick's death in 1965, Jones married California industrialist Norton Simon. She and Simon moved to India, where Simon began collecting South Asian and Southeast Asian art.
The art formed a significant part of the collections housed in the Norton Simon Museum, the museum spokesman said.
Jones became chairman of the museum after Simon's death in 1993, working to increase its programming and public outreach, he said. She became chair emeritus in 2003.