STORY HIGHLIGHTS
"New Moon" expected to be one of year's biggest movies

Most iReporters who submitted reports enjoyed film, second in "Twilight" series

Professional movie critics weren't as kind; film is doing poorly at RottenTomatoes.com

(CNN) -- A number of CNN iReporters made sure to get in line for screenings of "The Twilight Saga: New Moon," and their reaction can be summed up in one word: "More!"
"Grade A film! Better than the first," said frequent iReport movie reviewer Rajiim Gross of Fort Thomas, Kentucky.
Gross did have one caveat: Since "New Moon" is the second in a series, moviegoers will have to see the first film, "Twilight," to understand some of the plot developments in the second.
IReporter Asa Thibodeax acknowledged that he wasn't a "New Moon" fan, but he "enjoyed it," he said after a screening at the Minneapolis, Minnesota-area Mall of America. His daughter, Dacia, was more enthusiastic.

Video: Mr. Moviefone: 'New Moon'

Video: 'Twilight' star tapes premiere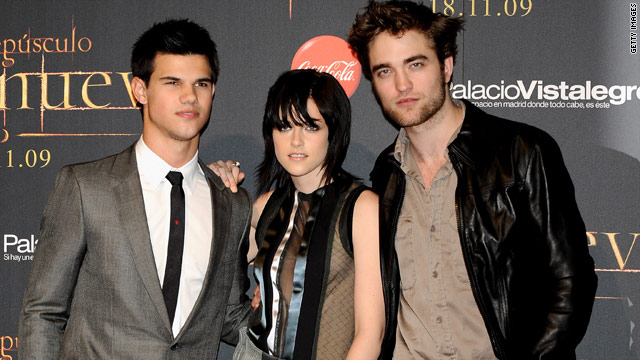 Gallery: 'New Moon' mania around the world
"I loved it -- a lot more than I thought I would," she said, adding breathily, "Jacob's body," referring to star Taylor Lautner's chiseled physique.
Have your own review? Post an iReport here
Like Dacia, most "New Moon" fans are well familiar with the source material -- the "Twilight" novels by Stephenie Meyer -- and many have seen the first film plenty of times.
Fifteen-year-old Annabelle Barker and 18-year-old Hilda Akinrinade, who attended a London, England, screening, couldn't wait for the new film to start.
"I've watched ['Twilight'] at least a hundred times!" Akinrinade told CNN.
Professional movie reviewers haven't been as kind to the film as fans. "New Moon" currently has a 29 percent approval rating at RottenTomatoes.com, the movie review aggregator site, worse than the 49 percent approval earned by "Twilight."
"A morning-after mope-fest," wrote the Boston Globe's Ty Burr.
Some moviegoers agreed. IReporter Oonabot's iReport consisted, simply, of a photograph under the headline, "We went to the movies tonight." In the photo, she and her husband are wearing T-shirts that state "New Moon Sucks" and "I [hate] Twilight."
Nevertheless, most fans would not be denied. "New Moon" is the No. 1 film of all time in advance ticket sales, according to ticket seller MovieTickets.com. Forecasters say the film may gross as much as $100 million its opening weekend.
And fans rallied around to show their support.
"I was blown away. It was so awesome," an unidentified female moviegoer told iReporter Chris Morrow of San Diego, California, where some fans waited for more than two hours at a Wednesday night screening.
And even Anders Wright, who reviews films for San Diego's CityBeat, knows that he's outnumbered by the "Twi-hards," as dedicated fans call themselves.
"It doesn't matter what I thought," he told Morrow. "This is ultimately one of the biggest critic-proof movies of the entire year."