STORY HIGHLIGHTS
Sandra Bullock and Jesse James have been dueling in court for custody of his daughter
James had 5-year-old Sunny with former adult film actress Janine Lindemulder
The couple gained custody when Lindemulder went to prison for tax evasion
Now that Lindemulder's out, the battle wages on in court
(CNN) -- Sandra Bullock and her husband, Jesse James, are still caught in the web of one messy -- and increasingly public -- custody battle.
James, of "Monster Garage" fame, was granted custody of his 5-year-old daughter, Sunny Lee James, from a previous marriage with former adult film actress Janine Lindemulder when Lindemulder was imprisoned for tax evasion earlier this year.
Bullock and James supplied letters to the judge at the time of Lindemulder's sentencing requesting custody for Sunny, as they alleged that Lindemulder was an unfit parent.
James' representation declined to comment, and attempts to reach representation for Bullock and Lindemulder were unsuccessful.
Since her release, Lindemulder has been pushing for more parental rights.
In an October 13 letter to the judge presiding over the case obtained by CNN, Lindemulder wrote that she hoped to see her daughter every Saturday, and be more informed of her child's out-of-state travel and any changes in her education.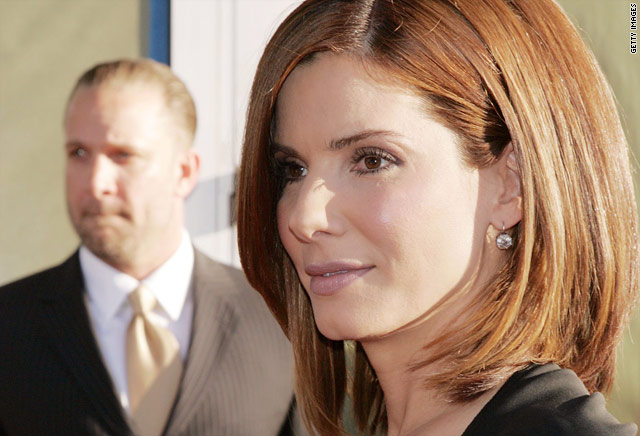 Interactive: Celebrity custody battles
"My daughter and I are both very eager to get back to a normal, healthy, loving life," she wrote.
The court granted Lindemulder visitation rights on Sundays, according to court documents, as long as she kept her daughter away from her new husband -- felon Jeremy Aikman -- and did not consume any drugs or alcohol.
Yet James found himself back in court October 29, saying that Lindemulder violated that October 13 order to ensure Sunny had zero contact with her new spouse, according to Access Hollywood.
To prove that her maternal instincts are sound, Lindemulder is taking her case to the court of public opinion.
"I am the best mother I can be," Lindemulder said during an interview on "Good Morning America" on Wednesday, although she admitted to making "horrific choices in the past."
In a letter to judge Thomas Coffin obtained by ABC News, Bullock alleged that Sunny was subjected to neglect and isolation when she stayed with her mother.
"While in Janine's care, sometimes Sunny is left alone during the day, while her mother is asleep from drug use," Bullock wrote.
Bullock says the uncertainty of Sunny's world has affected her work.
"I myself have stopped working like I used to in order to be here with Jesse and the kids because we are on constant high alert," she wrote. "Never knowing the condition Janine will be in, and even more concerning, the condition Sunny will be in."
On "Good Morning America," Lindemulder said she's not sure how Bullock formed an opinion of her parenting, since "Sandy doesn't know what goes on in my house."
"It hurts tremendously. The accusations, especially from Sandra ... because we've never sat down and talked," Lindemulder said in the interview. "That's the one thing that I wish more than anything, for a remedy for what's happening here, is just communication."
But the "she-said, and then-she-said" doesn't end there. In her letter to the judge, Bullock called Lindemulder's claims that her desire to have custody of Sunny stemmed from an inability to have her own children simply not true.
"To share the joy of bringing another life into the world with Jesse is something that I desire very much," she wrote. "But we realized that due to the instability in Sunny's life, bringing another child into the world at [this] time wouldn't be in Sunny's best interest."
Despite the stress of the situation, Bullock said she's "grateful for the opportunity to participate in preparing" Sunny, Chandler and Jesse Jr. (James' two children from a previous marriage) for life.
"The universe put this in our lap," Bullock said to Parade. "I seemed to have stepped in right when I needed to be there. I now know that anything sweet, really sweet, that I have was nothing that I planned," the actress said, including her marriage to Jesse James in 2005.
"I didn't grow up thinking, 'I'm gonna get married and have someone take care of me,'" she said.
But, as she's grown, Bullock's learned a few lessons about love.
"I was good at bolting before. I didn't want to do the work," she said in the interview. "Now I work at what I love. If I didn't love him, I wouldn't be putting in the effort. I do approach things differently now that I'm married. I would never do anything that would harm his heart."