STORY HIGHLIGHTS
Christopher Lee says horror movies today are "dreadful" and "obscene"
Veteran actor gained fame playing Dracula in Hammer horror movies
Lee stars in upcoming "The Resident," his first Hammer movie since 1976
Prolific actor says: "I haven't done lots of horror"
London, England (CNN) -- Although his name is synonymous with horror, Christopher Lee says he doesn't have much desire to see pictures that fall under that genre these days.
The 87-year-old, who helped Britain's legendary Hammer studios breathe new life into the horror genre in the 1950s, says he rarely watches horror films.
"I find it quite nauseating what they do," Lee told CNN. "The blood is all over the screen like an avalanche -- the mutilation -- dreadful things, and I just don't enjoy that."
The veteran actor, who played Count Dracula and Frankenstein in a series of Hammer movies from the 1950s until the 1970s, says it's "obscene" how much is displayed in horror films today.
"What you don't see is far more frightening than what you do see," said Lee, who considers Roman Polanski's 1968 supernatural thriller "Rosemary's Baby" the scariest film he's ever seen.
That may explain his attraction to upcoming psychological chiller "The Resident," his first Hammer film in more than 30 years.
Starring Hilary Swank and Jeffrey Dean Morgan, the movie is about a young doctor whose landlord develops a creepy obsession with her.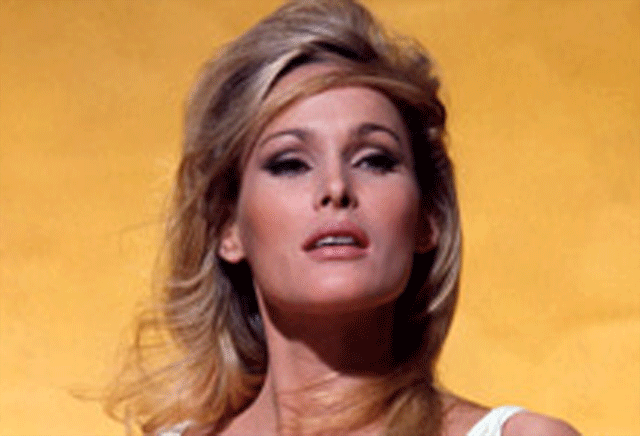 Gallery: Hammer's leading ladies
Lee was a perfect fit for the film, which takes on a nightmarish quality in a nod to the noir style of Alfred Hitchcock, director Antti Jokinen says.
"He has that presence that a movie like this needs because a single look can be the scary atmosphere that you need," Jokinen told CNN.
"The Resident," due out in the spring, is the first theatrical feature under the banner of the re-launched Hammer Films. It is being revived by new investors who bought the company two years ago.
Lee says his reunion with Hammer is ironic in a way. He didn't leave the studio on the best of terms -- "I'm not going to go into it, but take it from me, they ruined it," he says of his last Hammer film, bizarre 1976 cult classic "To the Devil a Daughter."
Some remarkable films did come out of that era: He describes black-and-white "Scream of Fear" (1961) as "brilliant," and fondly recalls working with the close-knit Hammer team, which was like a family.
"Occasionally they'd change the cameraman or something but otherwise the whole crew was the same all the time, and I knew all of them extremely well," he said.
But the white-haired actor doesn't wax nostalgic. "Not every Hammer film was perfect," he said.
In 1966's "Prince of Darkness," he ended up playing the character of Dracula silent because the lines "were not good and I couldn't do anything with them."
Lee played a central role in the rise of Hammer, starring in 1958's "Dracula," which helped both him and the studio gain international recognition.
The film was instrumental in launching a golden era for the production house, whose films, with their gothic qualities and use of vibrant colors, helped reinvigorate the horror genre.
...I have to say that the bad guy is frequently much more interesting than the good guy.
--Christopher Lee
But the movies began to seem outdated as movies like "The Exorcist" and "The Omen" came on the scene, and Hammer produced its last film in 1976.
Lee -- or to be precise, Sir Christopher Lee, after Queen Elizabeth II knighted him in June -- has come a long way since his first Dracula film, a six-week job that he says paid £750.
Although he's often associated with Hammer films, Lee is quick to point out that he hasn't really taken many horror roles.
Aside from the Dracula movies, "The Curse of Frankenstein" (1957) and "The Mummy" (1959), "I haven't done lots of horror," the prolific actor told CNN.
Of course, that hasn't kept him from achieving cult status among horror fans.
Included in his legion of fans is "The Resident" co-star Morgan, who says he "hit the ceiling with excitement" when he found out Lee was joining the cast.
Morgan told CNN: "He's got this kind of dignity to him that's just great.
"I work with so many actors that don't have respect for what we do, or respect for the history of what we do and not only does he respect it, but he is a part of the history of this craft."
Over the decades Lee has starred in hundreds of movies. He has a predilection for playing baddies, including Bond villain Scaramanga in "The Man with the Golden Gun" (1974).
"I haven't spent my entire career playing the guy in the bad hat, although I have to say that the bad guy is frequently much more interesting than the good guy," Lee said.
His more recent film credits include the menacing Saruman in the "Lord of the Rings" trilogy and fallen Jedi knight Count Dooku in the Star Wars prequels.
But he considers 1973's "The Wicker Man" "the best picture I've ever done." The role was written for him and remains his favorite.
"They didn't have to look for me to play the part; they wrote the part for me," which doesn't happen very often, he said.
Lee has kept a busy work schedule. In addition to "The Resident," he stars alongside Colin Farrell in the soon-to-be-released "Triage," is involved in a film from the director of "The Wicker Man" and lends his voice to animated film "Monstermania!"
Lee, who doesn't show any signs of slowing down, despite approaching the age of 90, is pragmatic about his extraordinary career.
"Well," he said. "What else would I do?"