(CNN) -- Actor John Travolta and his legal team are dismayed that the alleged behavior of a juror led to a mistrial in the case of two people accused of attempting to extort millions from Travolta, his representative said.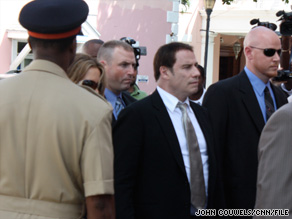 John Travolta, center, and his wife, Kelly Preston, enter the courthouse in the Bahamas last month.
"We are disappointed to hear about the alleged juror misconduct since we know that the Bahamian government, the court, the other jurors and John Travolta as the victim want to have this matter adjudicated through the judicial system," Samantha Mast said late Wednesday night.
"Mr. Travolta has and will continue to cooperate with the Bahamian authorities in the prosecution of the defendants for extortion."
The Bahamian judge said she believed someone in the jury had had inappropriate communications outside of the jury room, where jurors had been deliberating for eight hours. The judge received information that an announcement had been made at a local political rally that one of the defendants had been found not guilty.
Tarino Lightbourn, a paramedic, and former Bahamian Sen. Pleasant Bridgewater -- who also is Lightbourn's lawyer -- are charged with trying to extort money from Travolta after his son Jett's death from a seizure on January 2.
The money allegedly was to be paid in return for not making public a document Travolta had signed, declining to have his 16-year-old son, Jett, transported to a nearby hospital. Travolta refused a demand for money.
Lightbourn and Bridgewater have pleaded not guilty.
Don't Miss
While lawyers and journalists awaited the verdict Wednesday night, they were inundated with calls from colleagues saying that someone at a rally for the Progressive Liberal Party had announced that party member Bridgewater was "free at last."
When the courtroom doors opened to a packed crowd, the jury foreman said the jurors needed more time to deliberate.
But Judge Anita Allen opted to discharge the jury.
"About two hours ago, there was an announcement at a particular political party," she said. "It leaves the impression that there may have been a communication in the jury room. I am going to discharge you from returning your verdict."
She then ordered a retrial.
"We would have liked to have had a verdict so there would be closure in this case, but we prefer to have a new trial," said Travolta's lawyer Michael Ossi. "We believe the evidence was very strong and convincing. The jury was deliberating for about eight hours. ... If, in fact, Tarino Lightbourn or Pleasant Bridgewater were found not guilty, a verdict would have been read hours before this announcement."
Lightbourn's lawyer Carlson Shurland expressed disappointment over the judge's ruling, saying the case has been a "financial nightmare."
"Unfortunately, after a lot of expenses, I'm very, very disappointed," he said. "I'm confident that we would have had a favorable verdict."
Earlier in the trial, Travolta had testified that his son was found unresponsive by a nanny at home on the island of Grand Bahamas, where the family was spending the New Year's holiday.
Travolta said he initially told the ambulance driver to rush them to an airport where his private jet was parked. Travolta, who is a pilot, planned to fly his son to a West Palm Beach, Florida, hospital instead of driving him to one in nearby Freeport.
The actor testified that while he and his wife, actress Kelly Preston, were riding in the ambulance with their son, they decided to take the teen to the hospital, instead of flying to Florida.
At the hospital, Travolta was told his son "wasn't alive," he said.
During the ambulance ride, Lightbourn asked Travolta to sign a statement releasing the ambulance company from liability.
"I received a liability of release document. I signed it. I did not read it. Time was of the essence," Travolta testified.
Travolta testified that he later learned about a demand for $25 million. If he didn't pay, "stories connected to that document would be sold to the press," the actor said.
"The stories would imply the death of my son was intentional and I was culpable somehow."
An attorney representing Bridgewater and Lightbourn asked Travolta whether the defendants had ever contacted or threatened him directly. Travolta said they had not and that he had heard specifics about the situation through his attorneys.
Travolta's attorney Michael McDermott testified that Bridgewater had told him that the "document would show [Travolta] killed his son or was negligent in the death of his son."
Also, McDermott told the court that Bridgewater had claimed that the form was evidence that Travolta was "trying to flee the country with his dead son."
"I said to Mrs. Bridgewater, 'What you are doing is a criminal offense -- it's extortion in the United States," McDermott testified.
McDermott said he contacted authorities and later met with Bridgewater in a Nassau hotel room for a conversation secretly recorded by Bahamian police.
The price for keeping the document under wraps was dropped through subsequent phone conversations. It went from $25 million to $10 million, McDermott said.
E-mail to a friend

CNN's John Couwels and journalist Arthia Nixon contributed to this report.
All About John Travolta • Jett Travolta • Kelly Preston • Bahamas